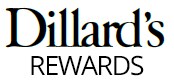 ---
APPLY IN-STORE
OR BY MAIL
Apply in store - it only takes a few minutes. Find your nearest store.
To receive an application by mail, call 1-800-643-8276.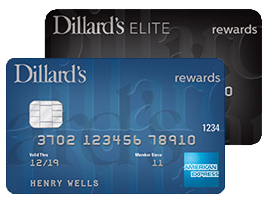 WHY YOU SHOULD APPLY:
Enjoy the benefits of being a Dillard's Cardmember.
Get an instant decision, and if approved, you can start shopping right away.
Earn a 10% Off Welcome Shopping pass in your first statement when you open an account and charge $100.
Competitive APRs.
---
EARN POINTS, EARN REWARDS
Earn points1 when you shop with your Dillards' card.
For every 1,500 points you earn, we'll give you your choice of a
10% Off Shopping Pass or a $10 Rewards Certificate.2
Subject to credit approval. All rewards and rewards points are subject to expiration.
---
Rewards points are earned on net purchases (purchases minus returns/credits) only. Cash advances and cash equivalents such as money orders and traveler's checks as well as interest charges and fees, do not earn Rewards Points. See the Dillard's Rewards Program Terms and Conditions for details. Rewards points earned which have not been used toward the issuance of a Rewards Certificate or Shopping Pass will expire at the end of the 12th month after such Rewards Points are earned.
Rewards Certificates and Shopping Passes cannot be used for prior purchases, credited to an account, redeemed for cash, or used for purchasing gift cards and must be presented at time of purchase for every eligible transaction by the expiration date shown on the certificate or pass. Your Dillard's Card must be used in conjunction with redeeming Shopping Passes or Rewards Certificates. Purchases subject to available credit limit. Additional restrictions and limitations may apply as stated on the Rewards Certificate or Shopping Pass. See the Dillard's Rewards Program Terms and Conditions for details.
Two rewards points are earned per dollar charged on net purchases at: (1) U.S. retailers whose merchant code for American Express is classified as gas station or automated fuel dispensers (gas purchases at warehouse/membership clubs, grocery stores, car washes, auto repair stores, and superstores that sell gasoline may not earn two rewards points); (2) at U.S. retailers whose merchant code for American Express is classified as U.S. supermarkets or grocery stores (purchases at superstores and warehouse clubs may not be coded as supermarkets). For all other purchases, one rewards point is earned per dollar charged in net purchases. Wells Fargo does not have the ability to control how a merchant is classified and therefore reserves the right to determine which purchases qualify for two rewards points. You may not earn bonus points for purchases made through third-party payment
This credit card program is issued and administered by Wells Fargo Bank, N.A. American Express is a federally registered service mark of American Express and is used by the issuer pursuant to a license.