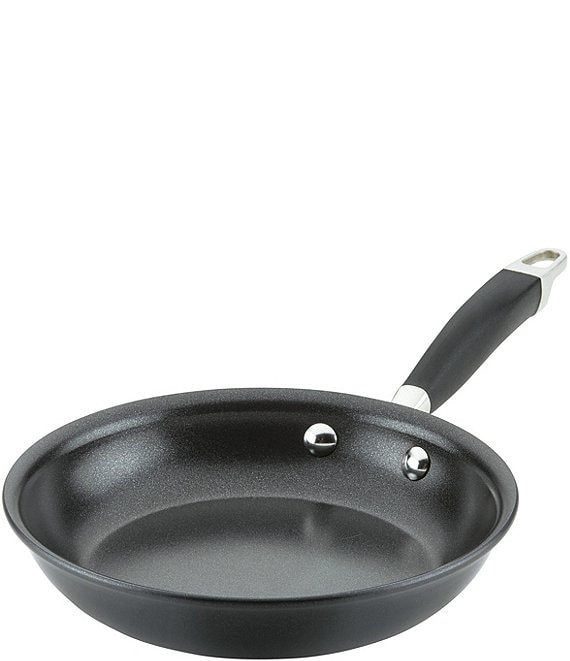 Anolon
Advanced Home Hard-Anodized Nonstick Skillet
Rated 4.81 out of 5 stars
Rated 4.81 out of 5 stars
Rated 4.81 out of 5 stars
Rated 4.81 out of 5 stars
Rated 4.81 out of 5 stars
498 Reviews
Rated 4.81 out of 5 stars
Create flavorful home-cooked meals with the Anolon Advanced Home Hard-Anodized 8.5-Inch Nonstick Skillet designed for creating a full range of recipes from fast and easy weeknight creations to the weekend menu everyone looks forward to.Anolon Advanced Home starts with the long lasting hard-anodized aluminum durability and even heating that Anolon is known for and adds the new Infinity Slide System for the best in nonstick performance and easy cleanup that will keep cooking and looking like new, even with daily use. A comfortable Anolon SureGrip handle provides a confident grasp, and the skillet is conveniently oven safe to 400°F. Designed for daily creativity, the Anolon Advanced Home Hard-Anodized Nonstick 8.5" Skillet combines durability, performance, and convenience so every meal is a win. Optimal nonstick performance: Sapphire-reinforced Infinity Slide™ nonstick is PFOA-free and lasts 16x longer than traditional nonstick and 80x longer than typical ceramic cookware Durable construction: Hard-anodized aluminum is twice as hard as stainless steel and ensures fast, even heat delivery without hot spots so food cooks the same everywhere on the pan Comfort control: Anolon SureGrip® handles provide a secure hold when moving pans from stove to oven to table Easy cleaning convenience: Nonstick inside and out keeps skillets looking like new, even with daily use.
Hand wash recommended
Even heating: oven safe to 400°F for seamless stove-to-oven performance
Stove Top Suitable: Electric, Gas, Glass-Ceramic
Imported.
In 1986, Anolon pioneered the hard-anodized nonstick pan.

For almost four decades, we've made pots, pans, and tools that are thoughtfully designed around our chef's demanding needs, carefully made, and forever functional.

Our Philosophy

While great meals are often the markers of an incredible experience, it's the art and act of cooking that nourishes our chefs most. And we're here to help with finely crafted, durable, and reliable cookware that will always stand up to the task.
Ratings & Reviews
4.81
Rated 4.81 out of 5 stars
Rated 4.81 out of 5 stars
Rated 4.81 out of 5 stars
Rated 4.81 out of 5 stars
Rated 4.81 out of 5 stars