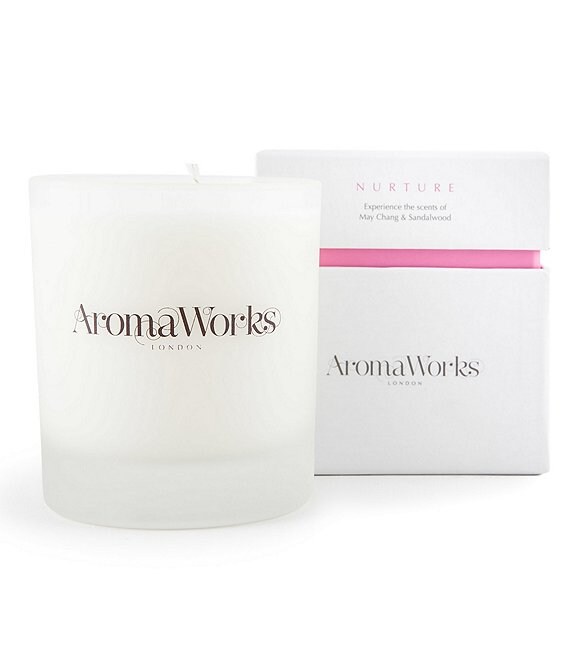 AromaWorks London sources natures finest soy wax to make their candles, while the aroma delivered by their 100% pure essential oils will envelop you in a truly therapeutic aromatherapy experience.Soy wax candles provide cleaner burning. This means that no toxins, carcinogens or pollutants, whilst the candles also last longer than beeswax candles. In addition, due to the wax burning at a cooler temperature, you can expect to enjoy your soy wax candles to last longer.
The Nature candle has a blend of five essential oils that works in perfect harmony to promote physical relaxation and mental calm. Nurture will help to release you from the stresses of the day, encouraging you to discover your inner calm.
Calm - De-Stress - Sleep

Fragrance Description:
Rich and fruity, the luxurious blend of 5 essential oils brings together the vibrant, fresh top note of May Chang with the sweet, fresh scent of Roman Chamomile and the soothing aromatic base of Sandalwood.
Rich - Fruity - Aromatic - Woody
May Chang
Roman Chamomile
Lavender
Sandalwood
Vegan Friendly
Chemical Free
Burning time: 36 hours
Size: 9cm X 8cm
Weight: 220g/7.7 oz.
About AromaWorks:
AromaWorks is a Multi Award Winning 100% Natural lifestyle brand combining a comprehensive range of natural beauty products including Skincare, Bath & Body and Home Fragrance. Founded in 2009 the brand is completely British with all products being hand made in its own manufacturing facility on the outskirts of London.
All of their products are chemical free, mineral oil free, nut free, gluten free, animal cruelty free, vegan friendly and safe to use during pregnancy.
Ratings & Reviews
No reviews
Empty Star
Empty Star
Empty Star
Empty Star
Empty Star
Runs too small

0

True to size

0

Runs too big

0