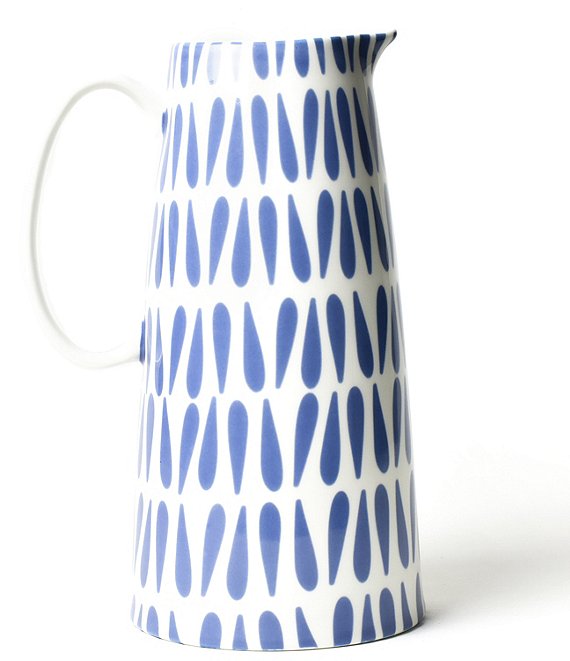 Coton Colors
Wedgewood Drop Pedestal Pitcher
From Coton Colors, this pitcher features:
Entertain guests with style with the help of our Wedgewood Drop Pedestal Pitcher. Not only does this pitcher look good topping off lemonade glasses, it doubles as a beautiful vase when not used for serving. We create Coton Colors pieces to inspire you to never miss an opportunity to celebrate every day. From the unique shapes to the carefully selected colors to every hand-drawn pattern, we artfully design our products from start to finish through the work of our design team in Tallahassee, Florida.
Earthenware
Approx. 5.5" Diameter x 11" H
Dishwasher safe, microwave safe
Imported.
DMS: 0712 587 DRP-11PPTCH-
Coton Colors Founding Artist & CEO, Laura Johnson, wanted ornaments that celebrated the milestones her family achieved throughout the year. Unable to find them, she did what any artist would do – she created them. Her oversized glass ornaments were the first of their kind, and she topped them with a coordinating ribbon and placed them in a matching gift box to make them even more wonderful!

Much like Laura's own collection, Coton Colors' Ornaments tells the story of each collector's celebrations in their life throughout the years. These special moments, like the birth of a child and the first day of school, serve as the inspiration behind all Coton Colors Ornaments; each handcrafted to memorialize life's joyful moments. From new jobs, engagements, growing families, and every occasion in between, they trim the tree with memories and celebrations to relive each year.
Ratings & Reviews
No reviews
Rated 0 out of 5 stars
Rated 0 out of 5 stars
Rated 0 out of 5 stars
Rated 0 out of 5 stars
Rated 0 out of 5 stars