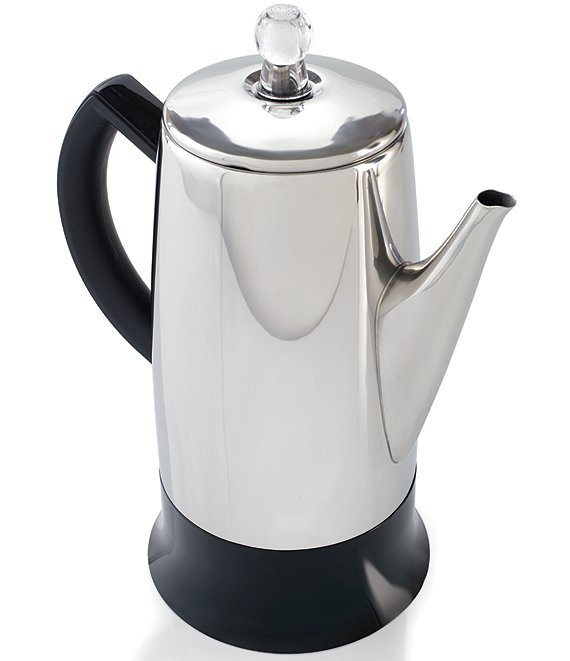 Cuisinart
Classic 12-Cup Percolator
Rated 4.32 out of 5 stars
Rated 4.32 out of 5 stars
Rated 4.32 out of 5 stars
Rated 4.32 out of 5 stars
Rated 4.32 out of 5 stars
336 Reviews
Rated 4.32 out of 5 stars
Cuisinart brings its coffee-making expertise to the 12-cup model of this classic stainless steel percolator. Piping hot water percolates through the grounds and pulses up into the glass knob on top to create the familiar sound that coffee lovers wait to hear. A detachable cord and stay-cool bottom let this percolator go anywhere to serve and it only needs to be plugged in to keep it hot. Other features include:
convenient capacity of 4 to 12 cups
long, tapered, precision no-drip spout
transparent knob that reveals the progress of the brew cycle
comfortable handle
ready indicator light that shows when coffee is ready to pour and enjoy
Made for US standard 110 voltage. Converter required for international voltage (220V, etc.).
Julia Child let people in on the Cuisinart secret and so did James Beard. They were among the first culinary experts to hail the food processor as a revolutionary kitchen appliance when it was introduced to America in 1973 by the late Cuisinart founder, Carl Sontheimer. They saw the food processor as a quick and easy way to make fine food and healthy dishes.

Our Mission is to help you "Savor the Good Life®." Under management from Conair Corporation since 1989, the legacy is alive and well, as today, Cuisinart is a universally recognized name. The prestigious Cuisinart brand is not limited to food processors. Plugged or unplugged, nobody covers the kitchen like Cuisinart. The company is a full-service culinary resource with a wide array of products, preferred by chefs and favored by consumers.
Ratings & Reviews
4.32
Rated 4.32 out of 5 stars
Rated 4.32 out of 5 stars
Rated 4.32 out of 5 stars
Rated 4.32 out of 5 stars
Rated 4.32 out of 5 stars