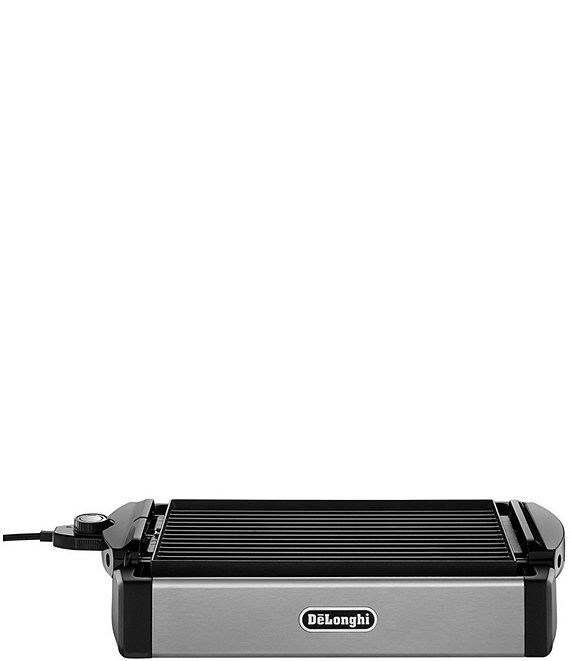 DeLonghi
2-in-1 Indoor Grill & Griddle with Reversible Plate
Rated 4.75 out of 5 stars
Rated 4.75 out of 5 stars
Rated 4.75 out of 5 stars
Rated 4.75 out of 5 stars
Rated 4.75 out of 5 stars
12 Reviews
Rated 4.75 out of 5 stars
From DeLonghi, this grill features:
The large, reversible 14.9" x 9.4" heavy-duty, die-cast aluminum grill/griddle plate has an embedded heating element for rapid and even cooking.
The grill (ribbed side) is ideal for grilling steaks, chops, burgers, fish and more while the griddle (flat side) is ideal for cooking seasonal veggies, eggs, pancakes and bacon.
The non-stick surface and fat collector tray promotes healthy cooking. Plus the grill/griddle plate has cool-touch handles and is dishwasher safe for easy cleanup.
Approx. 19.7" x 13" x 4.3"; weighs 9 lbs
Imported.
De' Longhi is the global brand that offers consumers innovative products with a unique combination of style and performance. Born in 1974 as a brand of electric radiators, De' Longhi has created iconic products such as Pinguino and Tasciugo, Sfornatutto and Rot-Fryer, broadening over time its offer to every area of ​​the house.

De' Longhi offers innovative appliances for comfort, home cleaning and kitchen. Within the latter segment, coffee machines currently represent the heart of the brand and have led De' Longhi to be among the world leaders in their production.
Ratings & Reviews
4.75
Rated 4.75 out of 5 stars
Rated 4.75 out of 5 stars
Rated 4.75 out of 5 stars
Rated 4.75 out of 5 stars
Rated 4.75 out of 5 stars