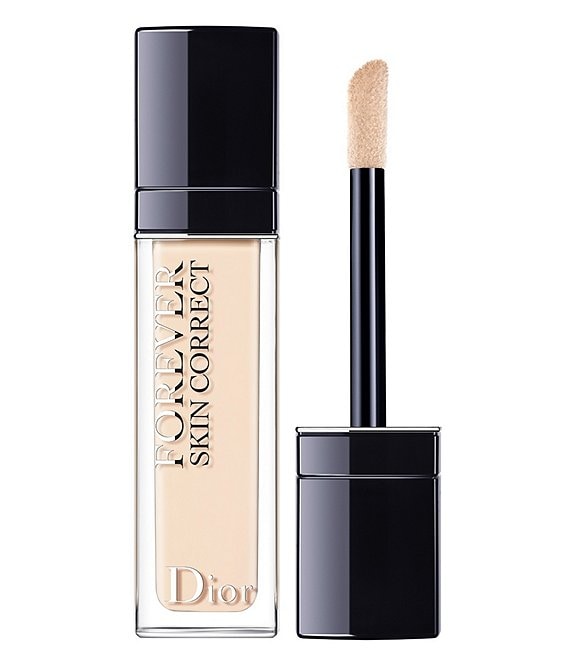 Dior
Forever Skin Correct Concealer
Full Star
Full Star
Full Star
Full Star
Half Star
1794 Reviews
What It Is:
A 24 hour-wear multi-purpose, full-coverage creamy concealer that corrects and hides under-eye circles, redness, blemishes and imperfections.
What It Does:
This 24 hour-wear concealer hides undereye circles, redness, and imperfections without settling into facial lines. Enriched with Wild Pansy extract, this skin-caring formula helps smooth, moisturize and improve complexion. Available in several shades and multiple undertones.
How to Use:
Forever Skin Correct is applied after foundation, focusing on areas that need additional correction: undereye circles, localized redness, imperfections. It can be applied with the applicator then blended with fingers or a brush.
To correct and conceal imperfections: select a shade closest to your skin tone, lightly apply concealer directly onto the blemish with the tip of the applicator.
To hide under-eye circles: select a concealer one or two shades lighter than your natural skin tone and apply under the eyes to conceal discoloration.
To brighten complexion: select a concealer one or two shades lighter than your skin tone, apply on high points of the face such as cheekbones, bow of the lip and center of the chin.
To contour: choose a concealer two or three shades deeper than your skin tone and apply beneath cheekbones, along jawline and hairline to define and contour facial features.
Ratings & Reviews
4.62
Full Star
Full Star
Full Star
Full Star
Half Star