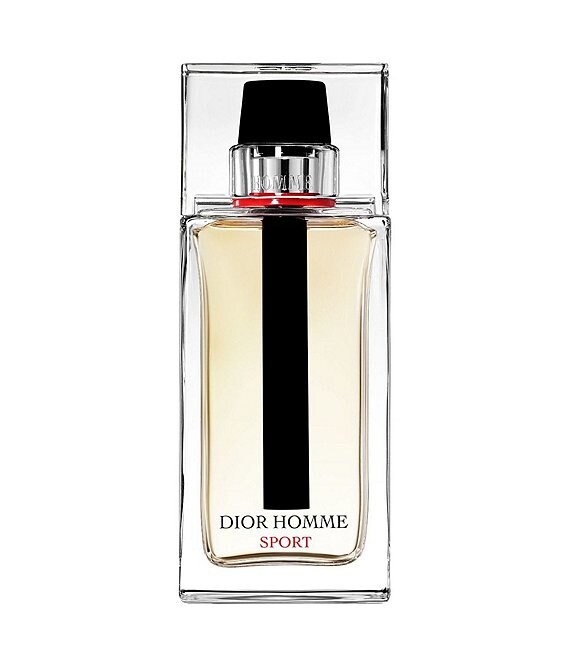 Dior
Homme Sport Eau de Toilette
Dior Homme Sport is reinvented to more fully embody a life lived with sport as philosophy, not a race for performance. The notion of a life in motion, free and intense; full of love, laughter and dreams imbued with sensuality. A philosophy between vitality and sexiness, energy and refinement.

The composition of Dior Homme Sport plays on facets of fruity-spicy freshness while retaining the sexy woody notes of Dior Homme's identity. This freshness takes up the challenge of extreme permanence and of a beginning that lasts and lasts.

"Dior Homme Sport is a story that starts off strong and fast and never lets up. A meteor that bursts with a lasting, intense pleasure."  —François Demachy

Top Note: Essence of Citron
Grown in Italy and Corsica since Roman times, this large fruit from the citron tree resembles a lemon. Its peel is rough, and its greenish-yellow flesh contains little juice but is highly fragrant. Essence of citron is obtained through expression, lavishing all of its freshness on Dior Homme Sport.

Heart Note: Pink Pepper Extract
The "Pepper Tree" bears clusters of berries that are used as spice and known as "Pink Pepper" or "Brazil Pepper." Native to South America (Brazil), this tree is now grown on Reunion Island. Red in color and the size of a peppercorn, its berries grow in clusters and emit an intense spicy fragrance. Pink Pepper Extract is obtained by using a CO2 extraction technique, which allows the peppercorn to retain its full aroma.

Base Note: Vetiver from Haiti
Native to India and Indonesia but also found in Haiti and Reunion, vetiver is a perennial plant whose fragrant substances are contained in its roots. The essential oil is obtained through steam distillation. The lingering scent of vetiver is used in woody, chypre and oriental compositions. Vetiver offers its refined boldness as the base note of Dior Homme.

To complete the Dior Homme body care ritual, spray a cloud of Dior Homme for a long-lasting fresh sensation: the immediate pleasure of a juicy freshness, the energy of spices, and the sexy trail of noble woods.
Ratings & Reviews
No reviews
Empty Star
Empty Star
Empty Star
Empty Star
Empty Star