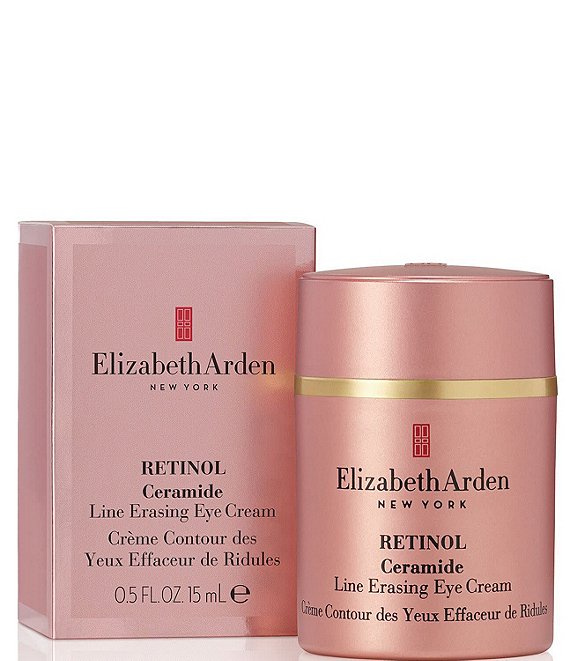 Elizabeth Arden
Retinol Ceramide Line Erasing Eye Cream
Full Star
Full Star
Full Star
Full Star
Half Star
93 Reviews
What It Is:
A multi-benefit eye cream with clinically proven encapsulated retinol, peptides, niacinamide and moisture-boosting ceramides to smooth, brighten and de-puff for younger-looking eyes.
What It Does:
Retinol Ceramide Line Erasing Eye Cream, a multi-benefit eye cream formulated with clinically proven retinol and moisture-boosting ceramides to smooth, brighten and de-puff for younger-looking eyes. The cream features Smart Retinol Technology to deliver a formula strong enough for visible results and suited for the delicate eye area with:
Smart Potency -
Encapsulated retinol absorbs 5x deeper* with 8-hour continuous release
Smart Results -
A blend of retinol, peptides and niacinamide helps smooth, brighten, de-puff and keeps the delicate eye area hydrated
Smart Dosage -
Dispenses the perfect amount of product with an airless pump to protect formula potency
Features and Benefits:
Smooths fine lines and crow's feet
Reduces appearance of puffiness
Diminishes dark circles
Brightens eye area
Firms
Hydrates
Revitalizes
Clinically tested
Ophthalmologist- and dermatologist- tested
Suitable for all skin types
Application Tips:
Retinol Ceramide Line Erasing Eye Cream is housed in an innovative package with an airless pump that dispenses the perfect dosage while protecting formula potency.
Gently press down to dispense dosage.
Using the ring finger, tap gently around the eye area in an upward motion.
*Skin model test of raw material; results observed in 7 days on encapsulated retinol using Raman spectroscopy. The report addresses raw retinol material only. The actual effect of cosmetic product varies from person to person.
A legendary innovator and a tireless entrepreneur, Miss Elizabeth Arden established the American beauty industry a century ago. Born Florence Nightingale Graham, she traveled from rural Canada to New York City, where she opened the first Red Door salon on Fifth Avenue in 1910.

Elizabeth Arden's fundamental belief was that beauty should not be a veneer of makeup, but an intelligent cooperation between science and nature in order to develop a woman's finest natural assets. She lived by her mantra, "To be beautiful is the birthright of every woman."

Miss Arden created skin care products that benefited, not masked, the skin. She not only promoted her concept of Total Beauty, including diligent skincare, nutrition and fitness, but lived it prudently as she persistently sought to bring a scientific approach to skincare formulations.
Ratings & Reviews
4.77
Full Star
Full Star
Full Star
Full Star
Half Star