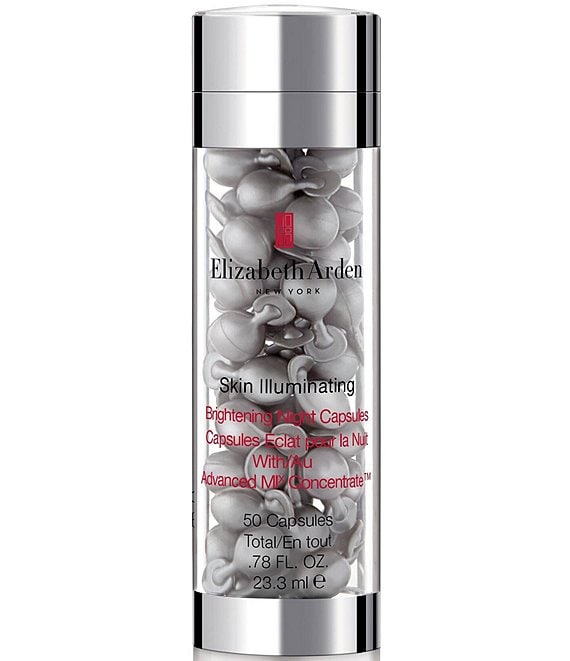 Elizabeth Arden
Skin Illuminating Brightening Night Capsules with Advanced MI Concentrate
Full Star
Full Star
Full Star
Full Star
Half Star
1947 Reviews
Brighter-looking skin while you sleep. With Elizabeth Arden's exclusive MI* Concentrate, this advanced nighttime serum works synergistically with skin's natural repair process to help minimize the appearance of excess pigmentation and dark spots and support skin's natural collagen and elastin matrix, giving skin a smoother, brighter look. See a profoundly visible transformation: skin looks smooth, crystal-clear and translucent. 50 capsules. For all skin types.
Immediate Benefits:
gives skin a clearer and more even-toned complexion
supports skin's own natural collagen and elastin matrix to give skin a smoother, brighter look
decreases the appearance of uneven skin tone
exfoliates
minimizes the look of pores
improves light reflectivity
Key Ingredients:
Advanced MI* Concentrate: A clinically-proven potent blend of Vitamin C and Niacinamide encapsulated together that is able to target and help minimize the appearance of existing dark spots, sun spots, redness and uneven skin tone, creating a more reflective, even-toned and brighter skin surface.
Licorice Extract: A powerful antioxidant to help brighten the look of skin.
SpectraBright: A potent botanical hops extract that helps bright skin's overall appearance while minimizing the appearance of dark spots and discolorations.
Paracress and Date Palm Kernel Extracts: While the skin recovers during sleep, powerful botanicals and environment protectants fight the damaging effects of pollution and support skin's natural collagen and elastin matrix.
Application & Uses:
Step 1: To open capsules, twist tab around twice to snap off.
Step 2: Smooth serum onto cleansed face.
To protect the integrity of the advanced formula's ingredients, store Skin Illuminating Night Capsules away from direct light in a cool, dry place.
A legendary innovator and a tireless entrepreneur, Miss Elizabeth Arden established the American beauty industry a century ago. Born Florence Nightingale Graham, she traveled from rural Canada to New York City, where she opened the first Red Door salon on Fifth Avenue in 1910.

Elizabeth Arden's fundamental belief was that beauty should not be a veneer of makeup, but an intelligent cooperation between science and nature in order to develop a woman's finest natural assets. She lived by her mantra, "To be beautiful is the birthright of every woman."

Miss Arden created skin care products that benefited, not masked, the skin. She not only promoted her concept of Total Beauty, including diligent skincare, nutrition and fitness, but lived it prudently as she persistently sought to bring a scientific approach to skincare formulations.
Ratings & Reviews
4.35
Full Star
Full Star
Full Star
Full Star
Half Star