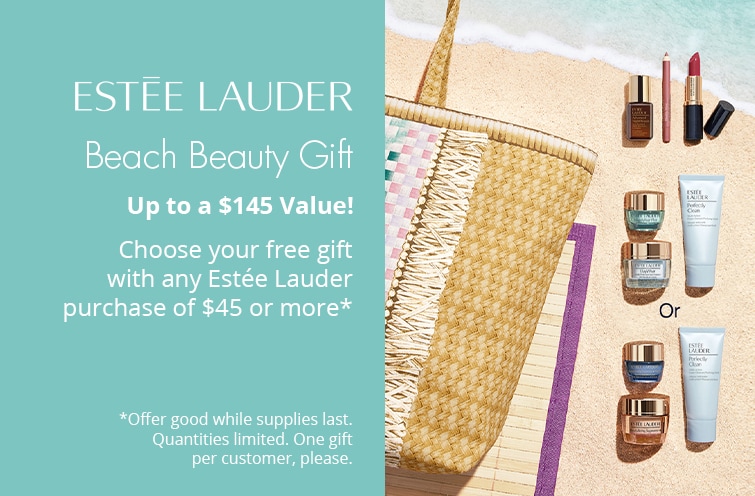 Estee Lauder
DayWear All Day Hydration 5-Piece Gift Set
Full Star
Full Star
Full Star
Full Star
Full Star
3 Reviews
What It Is:
A great gift set including a full-size DayWear Creme SPF15. This daily regimen helps skin look fresher, smoother, with a healthy glow.
What It Does:
Defend by day, detox by night. Discover these high-performance formulas to defend against signs of premature aging and diminish their appearance. Skin looks fresher, smoother, with a healthy glow.
Limited-time collection includes:
1.7-oz. DayWear Multi-Protection Anti-Oxidant 24H-Moisture Creme SPF15, full-size
0.5-oz. NightWear Plus Anti-Oxidant Night Detox Creme, deluxe travel size
0.5-oz. Advanced Night Repair Synchronized Multi-Recovery Complex, deluxe travel size
0.17-oz. DayWear Eye Cooling Anti-Oxidant Moisture GelCreme, deluxe travel size
Travel Bag
How to Use:
Apply Advanced Night Repair morning and night before your moisturizer.
Apply DayWear Creme SPF 15 in the morning on face.
At night, use NightWear Plus Creme on face.
Apply DayWear Eye GelCreme morning and night around eye area.
A $136 Value.
FREE 7-Piece Gift with any Estee Lauder purchase of $45 or more!
Offer good while supplies last. Quantities limited. One gift to a customer, please.*
DayWear All Day Hydration Gift:
DayWear Anti-Oxidant 24H-Moisture Creme SPF 15, 0.5 oz.
NightWear Plus Anti-Oxidant Creme, 0.17 oz.
Perfectly Clean Foam Cleanser/Mask, 1 oz.
Advanced Night Repair Face Serum, 0.24 oz.
Pure Color Envy Hi-Lustre Lipstick in Pink Parfait (Full-Size), 0.12 oz.
Double Wear Lip Pencil in Rose, deluxe size
Exclusive Beach Bag
OR

Revitalizing Supreme All Day Glow Gift:
Revitalizing Supreme+ Global Anti-Aging Cell Power Creme, 0.5 oz.
Revitalizing Supreme+ Night, 0.24 oz.
Perfectly Clean Foam Cleanser/Mask, 1 oz.
Advanced Night Repair Face Serum, 0.24 oz.
Pure Color Envy Hi-Lustre Lipstick in Pink Parfait (Full-Size), 0.12 oz.
Double Wear Lip Pencil in Rose, deluxe size
Exclusive Beach Bag
Ratings & Reviews
5
Full Star
Full Star
Full Star
Full Star
Full Star