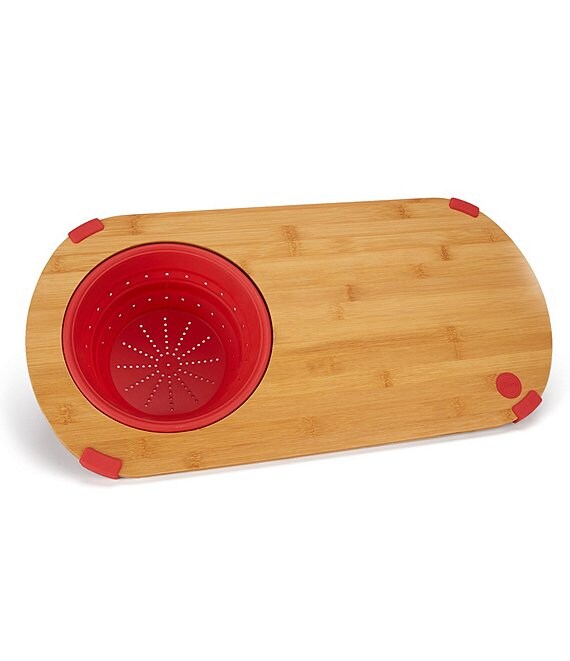 Fiesta
Bamboo & Colander Cutting Board
Full Star
Full Star
Full Star
Full Star
Half Star
2 Reviews
From Fiesta, this bamboo and silicone cutting board features:
renewable bamboo; silicone colander
cutting board and colander all in one piece that allows quick food prep
food-safe cutting surface
silicone, non-slip accents on edge of board for safe and easy use and removable colander
approx. 24" x 12"
hand wash recommended
Imported.
DMS: 0727 331 90472FSTA91
FIESTA, America's favorite dinnerware, was introduced by The Homer Laughlin China Company with great fanfare at the Pittsburgh China & Glass Show in January, 1936. FIESTA was the creation of Frederick Hurten Rhead, a second generation Stoke-on-Trent potter who had become Homer Laughlin's design director in 1927. The collection was an immediate hit with the public and, by it's second year of production, more than one million pieces were produced.

Today, The Fiesta Tableware Company introduces one new color each year and FIESTA has become the leading dinnerware brand in casual tabletop, as well as a consistent leader in bridal registries across America. All the while, collectors have continued to add to the dinnerware to which they were first introduced by their mothers and grandmothers. Today, FIESTA® dinnerware is the most collected dinnerware in the history of the tabletop industry with well over one half billion pieces produced.
Ratings & Reviews
4.5
Full Star
Full Star
Full Star
Full Star
Half Star