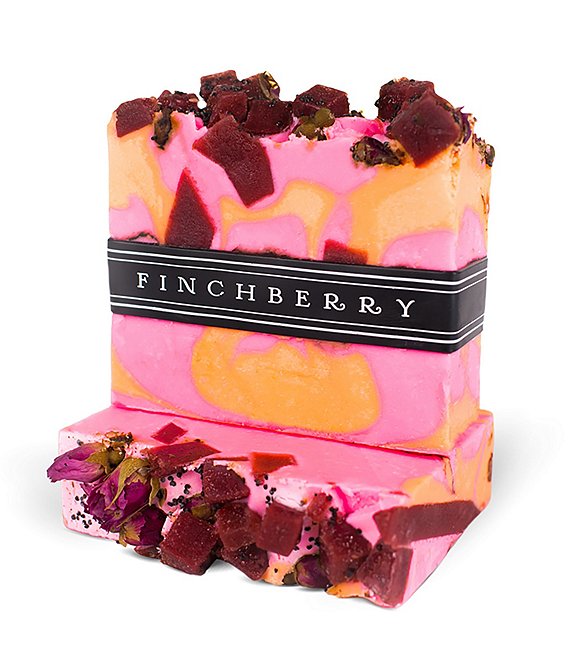 Finchberry
Tart me Up Handcrafted Vegan Soap
Rated 5 out of 5 stars
Rated 5 out of 5 stars
Rated 5 out of 5 stars
Rated 5 out of 5 stars
Rated 5 out of 5 stars
1 Review
Rated 5 out of 5 stars
If you need a little cheer in your life, consider the raspberry-lemon concoction that is Tart Me Up. Complete with poppy seeds, real Moroccan rose buds, and a bar splashed with geometric pinks, reds, and tangerines, Tart Me Up provides a surprising balance of calming floral and energizing fruit aromas.
The result is a brightly scented, rich lather that leaves skin feeling silky-soft, sweet, and seductive. Behind the decadent appearance and lush, gentle lather, you won't find any harsh chemical preservatives. Finchberry soaps are made from natural, food grade, gluten-free, and vegan-friendly ingredients. Finchberry soaps are not only cleansing, but provide a sensory experience to be savored daily.

Ingredients:
Purified water
saponified oils of organic olive, organic coconut, palm, shea butter, pink Moroccan rose buds, poppy seeds, select essential/fragrance oils
4.5 oz.
Ratings & Reviews
5
Rated 5 out of 5 stars
Rated 5 out of 5 stars
Rated 5 out of 5 stars
Rated 5 out of 5 stars
Rated 5 out of 5 stars