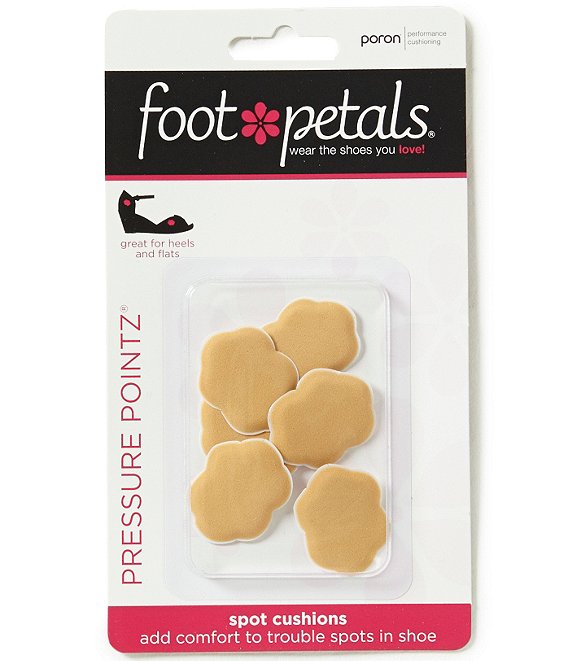 Foot Petals
Foot Petal Pressure Pointz
Full Star
Full Star
Full Star
Full Star
Full Star
1 Review
From Foot Petal, the Pressure Pointz feature:
 

Includes 6 individual shoe cushions
Easily trims for a customizable fit
Use anywhere you feel pressure in your shoes against your feet
Prevents calluses from forming
Protects against blisters and red marks
Skived edges so cushions won't roll and curl with foot friction
approx. 1" diameter to precisely cover point of pain
Spectape™ adhesive backing for lasting placement
Adhesive on the back is not recommended to remove and reuse

About the Technology: PORON® provides superior shock absorption that never goes flat. This lightweight breathable material keeps your feet cool,dry and comfortable with every step.

Use these spot dot cushions to address comfort problems, protect against blisters and red marks on feet and stop shoes from rubbing. Includes 6 individual cushions. Made in the USA
Foot Petals began with Tip Toes: our comfy, best-selling ball-of-foot cushions. Since then, we've developed solutions for slipping heels, lack of arch support, sore spots, and other common issues. Foot Petals ensure comfort and confidence, whether we're rocking our sexiest pumps or favorite flats. And you can always trust us to keep researching solutions for everyday problems; because we want the answers just as much as you do!​
Ratings & Reviews
5
Full Star
Full Star
Full Star
Full Star
Full Star