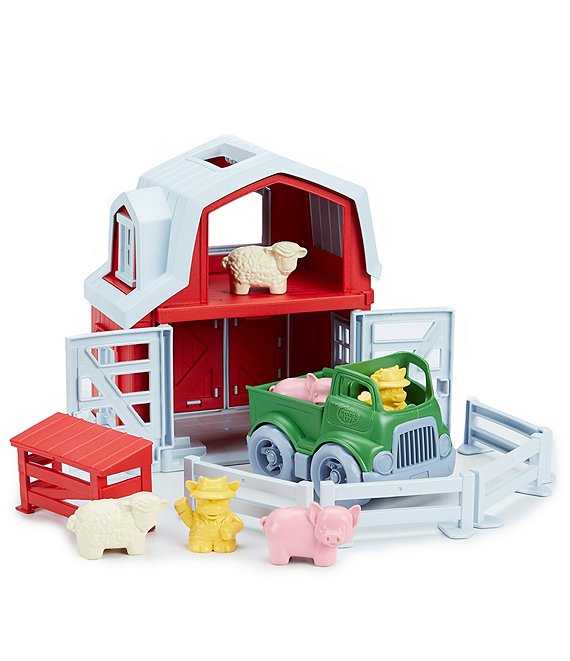 From Green Toys, this playset features:
It's a busy day on the Green Toys™ Farm! Inspiring cooperative play and communication, this playset includes a barn, pick-up truck, farmer cow characters, sheep, pigs, fences, and a hog shed for endless imaginative play
As little ones help the farmer cows open and close the barn doors, corral the pigs, and load the sheep in the back of the pick-up truck, they also develop fine motor skills and coordination
All pieces fit inside the barn, so clean-up and storage is a breeze, and the built-in handle makes it easy to take all the fun on-the-go
Manufactured in the USA
Made from 100% recycled plastic
No BPA, phthalates or PVC
Meets FDA food contact standards
Easy to clean and dishwasher safe
For ages 2+ years
Made in the USA.
At its core, Green Toys Inc. has always been an eco-friendly toy company. In fact, we say that to us, "every day is Earth Day." Our commitment to sustainability and playfulness is part of our DNA and we hope to inspire others to share in this passion.

From our 100% recycled materials to our US-based manufacturing, we're raising awareness about sustainability while delivering unquestionably safe products. We believe that the best way to encourage environmental change is through goods people buy and use every day—and in our case that's children's products.

We care about your kids – how they play, what they play with, and what the future holds. We are constantly exploring and innovating to deliver the best products possible for a playful planet for all.
Ratings & Reviews
No reviews
Rated 0 out of 5 stars
Rated 0 out of 5 stars
Rated 0 out of 5 stars
Rated 0 out of 5 stars
Rated 0 out of 5 stars