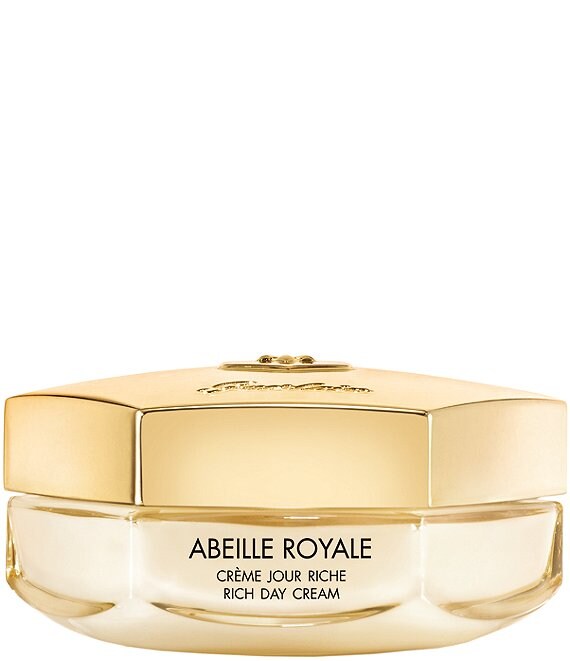 Guerlain
Abeille Royale Rich Day Cream
Full Star
Empty Star
Empty Star
Empty Star
Empty Star
1 Review
What It Is:
This balm-like, rich, day cream works to reduce all visible signs of aging - wrinkles and fine lines are smoothed, the skin is visibly firmed and the complexion more radiant.
What It Does:
Formulated with Black Bee Repair technology to expand the skin's self-regeneration capacity for more comprehensive efficacy on the visible signs of aging.
This technology is enriched with a derivative of vitamin C that has revitalizing properties to visibly enhance the complexion's radiance.

Skin Type:Main Ingredients:
Black Bee Honey - A pure honey rich in amino acids, trace elements and high in fructose-content, this honey offers essential ingredients for the revitalization of the skin.
Guerlain's Exclusive Royal Jelly - Rich in exceptional nutrients and is a natural source of carbohydrates, proteins, lipids and vitamins. It is produced in a protected environment and offers exceptional benefits for the skin.
How To Use:
Apply Abeille Royale Rich Day Cream in the morning after your serum.
About the Abeille Royale Collection:
Bee products are some of the world's most effective natural healing substances. Guerlain research has been working continuously with honey and royal jelly to create Abeille Royale - an anti-aging skincare collection with Black Bee Repair technology.
Fully aware of its social and environmental responsibilities, Guerlain integrated sustainable development into its company strategy back in 2007. Luxury and modernity are combined in this eco-design packaging made of 90% recycled glass.
Ratings & Reviews
1
Full Star
Empty Star
Empty Star
Empty Star
Empty Star