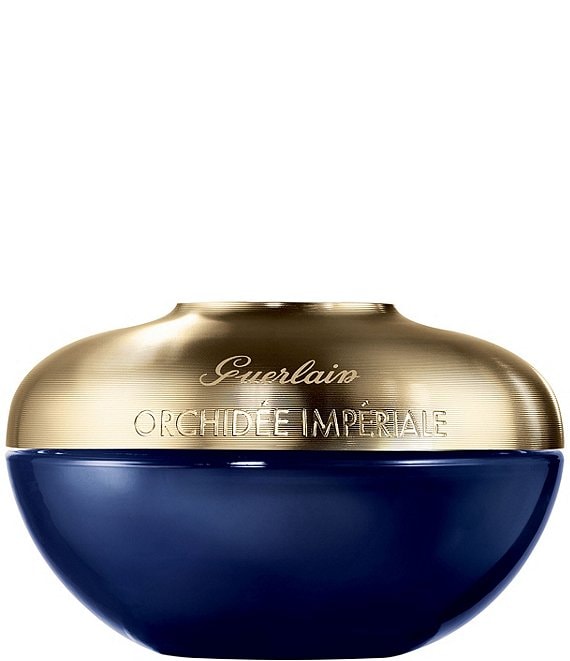 Guerlain
Orchidee Imperiale The Neck and Decollete Cream
The Orchidee Imperiale Neck and Decollate Cream is a firming and shaping care that enhances the neck and decollate by visibly smoothing and evening out the skin. This formula combines the replenishing power of Cell Respiration technology and the latest-generation active ingredients with firming properties. Together, these ingredients create a "second skin" mesh that acts as a breathable film with lifting and smoothing effects to help resculpt this delicate area day after day, and restore its ideal firmness. It has a fresh and sensorial texture that instantly skins into the skin, leaving skin more firm, smoother and more luminous.
Apply the Neck and Decollate Cream in the morning and evening, after the Orchidee Imperiale Cream.
1. Take a small amount of cream and warm it gently between your palms.
2. Sculpt: to enhance dermal tissue support, place the hands at the base of the neck, and move upwards until the fingers touch the nape of the neck. Apply light pressure with the fingertips.
3. Stimulate: place the hands flat against the chest, facing each other, and draw them outwards while pressing firmly with the fingertips.
4. Enhance: place one hand on the neck and make a sweeping downward movement towards your decollate, alternating hands to stimulate energy channels. *Repeat this process 5 times.
Orchidee Imperiale is an exceptional complete care range, renowned for its effectiveness on the signs of skin aging and the sensory pleasure of its textures. A true phenomenon of longevity, the orchid is the most highly developed species in the plant kingdom. Convinced of its outstanding potential, Guerlain has established its first-ever research center dedicated to a single ingredient: The Orchidarium®.
Acclaimed results from women after one month of use*:
Clear facial contours + 23% Skin firmness + 32% Lifted appearance +27% Even skin +35% Skin radiance +42%
*Self-evaluation, 31 women, twice-daily application, 4 weeks.
Guerlain has been creating exceptional ​Fragrance and Beauty products since 1828 ​and strives to preserve, develop and transmit ​this unique heritage. ​

In the Name of Beauty, we act by elevating Nature to an Art ​and commit to passing on its wonders to future generations, with the Bee as sentinel. ​

We involve and unite our clients and partners ​that share the same vision, in order to imagine and shape a more beautiful and sustainable world together.
Ratings & Reviews
No reviews
Rated 0 out of 5 stars
Rated 0 out of 5 stars
Rated 0 out of 5 stars
Rated 0 out of 5 stars
Rated 0 out of 5 stars