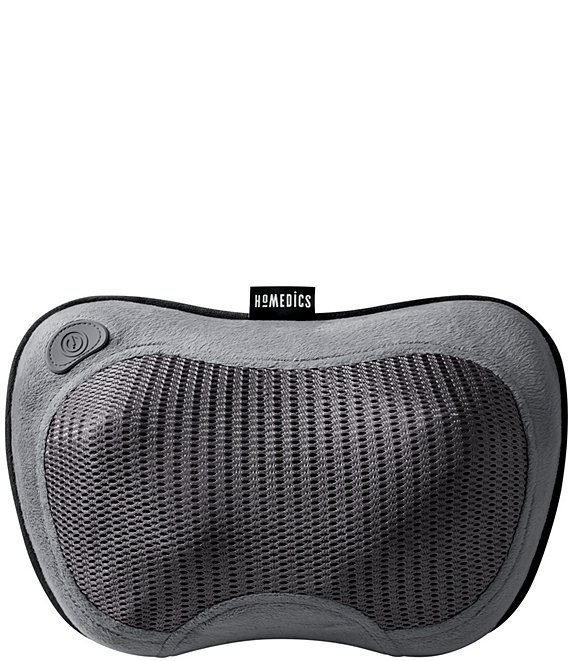 Homedics
Cordless Shiatsu Massage Pillow with Heat
Full Star
Full Star
Full Star
Full Star
Half Star
64 Reviews
From Homedics, this pillow with heat features:
Shiatsu massage kneads deep to loosen and comfort tight muscles
Soothing heat for added comfort
Versatile use: utilize as a pillow for the neck, back, and shoulders, or as a versatile use massager for the thighs, calves, and feet
Reverse function reverses the direction of the massage just like the hands of a masseur automatically every few minutes
Rechargeable battery for total convenience and portability. 1 hour run time, 3.5 hour charge time
Convenient integrated controls for ease of use
Lightweight and portable for relaxation anytime, anywhere
Measures Approx. 8.66"H x 13.58"L x 4.13"W
Weight 2.75 lbs
Imported.
In 1987, we were founded by a Detroit family to make people's lives better. Today, we're the established leader in wellness with home health innovations backed by time-tested science and new technology.

While we've grown over the years, we're still family owned and operated right here in the Motor City. Our mission to improve the lives of our customers continues as we evolve to meet the needs of our ever-changing world.

Wellness is all about simple daily habits that help you take care of yourself and your family. Our super-innovative solutions make it easy to live your well every day, no matter what life throws your way.
Ratings & Reviews
4.58
Full Star
Full Star
Full Star
Full Star
Half Star