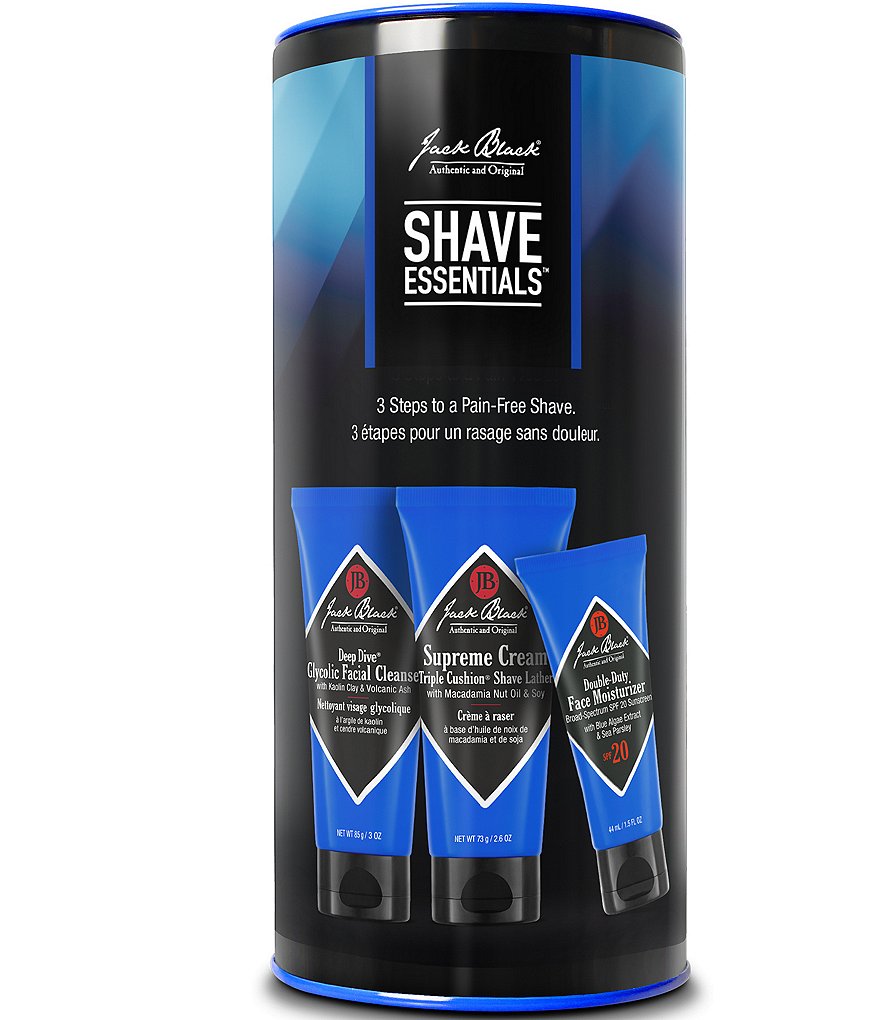 Description
A set of three flight-sized Jack Black essentials.
This set includes:
3-oz. Pure Clean Daily Facial Cleanser

Works gently without over-drying to leave your complexion clean, hydrated, and fresh. Witch hazel acts as an astringent, toner, anti-irritant, and antioxidant. Certified organic chamomile and aloe leaf help soothe and reduce redness. This product will work into a rich lather to remove dirt and debris gently and effectively without irritation or dryness. The result is clean, clear, smooth skin.
How to Use: Apply a small amount to moist skin and work into a lather. Rinse. Use morning and night to cleanse skin.

1.5-oz. Double-Duty Face Moisturizer

Provides lasting hydration to skin without oiliness or heaviness and visibly improves skin's overall appearance while preventing signs of aging.
How to Use: Apply a nickel-size amount on clean face and neck. Use daily in the morning, after shaving. Use in the evening to hydrate and moisturize dry skin.

3-oz. Supreme Cream Triple Cushion® Shave Lather

Allows for a smooth, close shave without irritation, nicks and cuts, or razor burn. The formula softens irritated and sensitive skin, leaving it bright and healthy, and is ideal for sensitive skin. It can be used with or without a shave brush.
How to Use: Start with a slightly moist face. Apply an even layer of Supreme Cream over face and neck with fingertips or a shaving brush. Activate Supreme Cream by working it to a rich, creamy lather using circular motions. Shave with a sharp, clean blade, rinsing razor frequently. Rinse face with warm water.
PureScience formulas lock in nature's bestnatural surfactants and certified organic ingredientsto please even the most sensitive skin. These products contain no artificial fragrances or colorants and are dermatologist-tested. Formulated without parabens or sulfates.