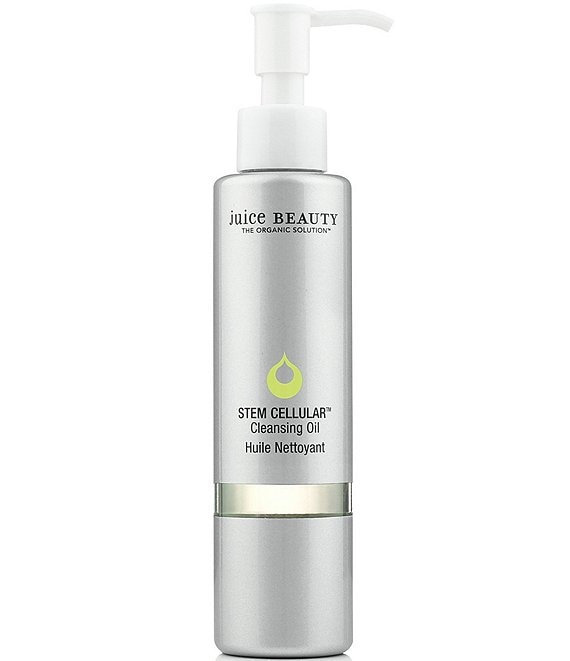 Juice Beauty
STEM CELLULAR™ Cleansing Oil
Full Star
Full Star
Full Star
Empty Star
Empty Star
1 Review
Purify, soften and balance skin's natural moisture levels with this deep cleansing oil formulated with grapeseed, may chang and ho wood oils. A proprietary blend of fruit stem cells and Vitamin C infused into organic, resveratrol-rich grapeseed help dissolve impurities.
Benefits & Ingredients
A rich, hydrating cleanser that balances natural oils
"Blooms" into a luxurious emulsion for easy rinse-off
Removes makeup while dissolving impurities
Provides powerful antioxidant action with Vitamins E and C
Who it's For:
Ideal for all skin types. Especially beneficial for skin showing the signs of aging, including fine lines and wrinkles.
How to Use:
For a softening, purifying cleanse, pump this lightweight cleansing oil on dry hands and massage into dry skin. Wet fingertips and continue to massage in circular motions to form a light emulsion. Rinse with warm water. Pat dry.
For a spa-like cleanse, pump oil directly onto a warm, damp washcloth. Gently massage in circular motions, then rinse well with warm water. Finish by covering face with a clean, warm, damp washcloth. Pat dry.
To remove eye makeup, pump a small amount onto a moist cloth and gently wipe makeup away.
4 oz.
Masterminded by a California team passionate about healthy lifestyles and whose organic products are backed by powerful science. It all started when Karen Behnke, a serial wellness entrepreneur, who built one of the first corporate wellness companies in the country, developed a keen interest in personal care products with her first pregnancy at age 40.

Experiencing hormonal changes and the beginning of lines in her skin, Karen set out to find healthy skincare solutions that delivered visible results. She was astounded to learn that, although the skin can absorb what is placed on it, there were very few available healthy personal care products that worked well. She wanted to create meaningful change in the beauty industry. Years after her second child was born, Karen subsequently bought the name "Juice Beauty" and launched the company from scratch in 2005. Karen then did the impossible: to create luxurious organic formulations that perform better than conventional beauty products.

Karen led an initial 5 year journey to solve complex organic formulation challenges working with PhD chemists, physicians, and microbiologists to perfect Juice Beauty's chemistry. Juice Beauty's revolutionary formulations started with a basic premise: Karen believed that by formulating with an antioxidant and vitamin-rich organic botanical juice base, rather than PEGS/petroleum derivatives or water, and combining it with powerful skincare ingredients, would yield better results than conventional or natural products. Multiple clinical testing proved her right. The company started growing when the GREEN APPLE® Peel – now patented – escalated to fame through celebrity favorite mentions and awards. Juice Beauty continues to be committed to a core value of providing continual support to its' non profit friends, Breast Cancer Prevention Partners and EWG / Environmental Working Group.

Juice Beauty is The Organic Solution. We continually challenge the status quo as we are pioneering and radically transforming the chemistry of beauty as we approach beauty from a wellness point of view. Clinically Validated, Authentically Organic beauty products.
Ratings & Reviews
3
Full Star
Full Star
Full Star
Empty Star
Empty Star