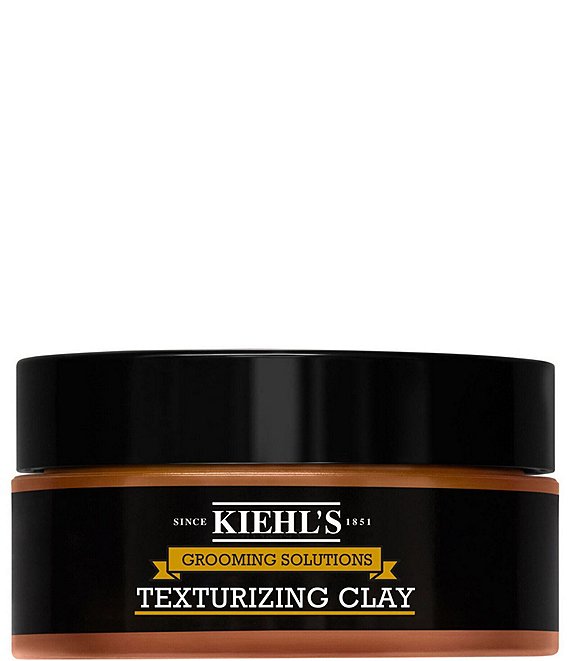 Rated 3.27 out of 5 stars
Rated 3.27 out of 5 stars
Rated 3.27 out of 5 stars
Rated 3.27 out of 5 stars
Rated 3.27 out of 5 stars
30 Reviews
Rated 3.27 out of 5 stars
Formulated with Moroccan Lava Clay, this styling claw can be used to define, shape and texturize hair, leaving a matte finish.


Features & Benefits:
flexible, long-lasting hold
infused with a woodsy blend of aromatic Cedarwood, Sandalwood and Eucalyptus essential oils
easy to apply
rinses out clean
bulks up hair's body without weighing it down
How to Use:
Warm a nickel-size amount in hands and work into hair from back to front. For a stronger hold, apply Texturizing Clay while hair is still wet. For hair with more flexibility and movement, brush through dry hair with fingers.
1.75 oz.
The original Kiehl's apothecary first served patrons in 1851, at the corner of 13th Street and Third Avenue in New York City.

In 1894, after honing his trade as an ambitious apprentice, pharmacist John Kiehl purchased the apothecary. John Kiehl & Co. began operations under "Kiehl Pharmacy."

Mr. Irving Morse, John Kiehl's apprentice, took over the business in 1921 and expanded the offerings to a full-service pharmacy, stocking teas, herbs, tinctures, honeys, and the first-ever Kiehl brand products, including the Original Musk Oil, our signature scent.

In 1924, Kiehl's became one of the first companies to proudly list ingredients on its product labels — even before the U.S. government mandated it — to help customers make more informed and confident purchasing decisions.

Kiehl's Pharmacy began introducing bold new products in 1962, such as Calendula Herbal-Extract Toner, Blue Astringent Lotion (loved by Andy Warhol), Kiehl's Lip Balm #1, and Ultra Facial Moisturizer — all still among our best sellers today.

In 2006, Kiehl's introduced Dermatologist SolutionsTM, a collection of advanced skincare formulated by Kiehl's chemists (and developed in collaboration with an advisory panel of leading dermatologists) to address specific skin concerns.

Today, our nature-inspired, scientifically-proven formulas are powerful yet safe and help improve overall skin quality for visibly healthier-looking skin.
Ratings & Reviews
3.27
Rated 3.27 out of 5 stars
Rated 3.27 out of 5 stars
Rated 3.27 out of 5 stars
Rated 3.27 out of 5 stars
Rated 3.27 out of 5 stars