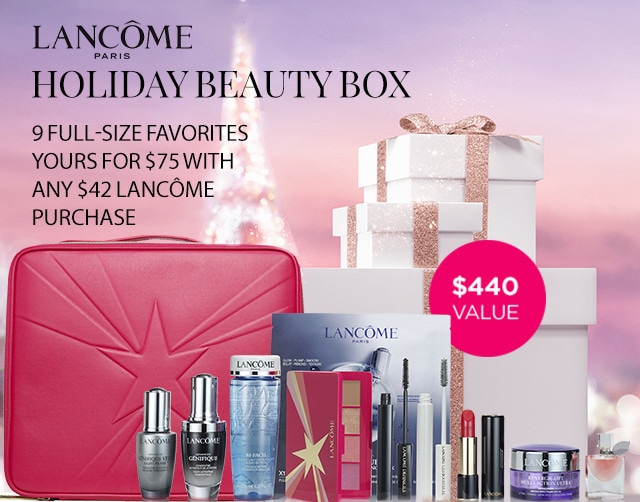 Lancome
1 Miracle Moments 3 Piece Gift Set
Rated 5 out of 5 stars
Rated 5 out of 5 stars
Rated 5 out of 5 stars
Rated 5 out of 5 stars
Rated 5 out of 5 stars
1 Review
Rated 5 out of 5 stars
This Limited Edition Set Includes:
3.4-oz.Miracle L'Eau de Parfum
1.7-oz..Miracle L'Eau de Parfum
1.7-oz.Miracle Shower Gel
Celebrate the holiday season with Miracle, the fragrance of joy.
Joyful. Empowering. Inspiring. Miracle is a sudden and marvelous revelation that life is extraordinary, that life is a miracle.
Fragrance Family: Spicy Floral
Top Notes: Lychee Fruit, Freesia
Heart Notes: Magnolia, Ginger and Pepper
Base Notes: Amber, Jasmine, Musk
Eau de Parfum
This sensual, spicy floral fragrance is bursting with the zest of brilliant Freesia, peppered with Ginger and serenely balanced by warm Amber notes. A vibrant, sparkling fragrance that opens like the dawning of a new day with fresh, dewy notes of Lychee and Freesia. Its spicy heart echoes with notes of Magnolia, Jasmine, Ginger and Pepper as its warm base notes envelop you in the sensual splendour of Amber and Musk.
Lancôme successfully combines scientific expertise and an intuitive understanding of women's needs to produce major innovations, unique and complementary between skincare, makeup and perfume. Lancôme affirms that happiness is the most attractive beauty. More than ever before, the brand aims to offer every woman the possibility to blossom and embrace her beauty and femininity whatever her age or skin color.
Ratings & Reviews
5
Rated 5 out of 5 stars
Rated 5 out of 5 stars
Rated 5 out of 5 stars
Rated 5 out of 5 stars
Rated 5 out of 5 stars