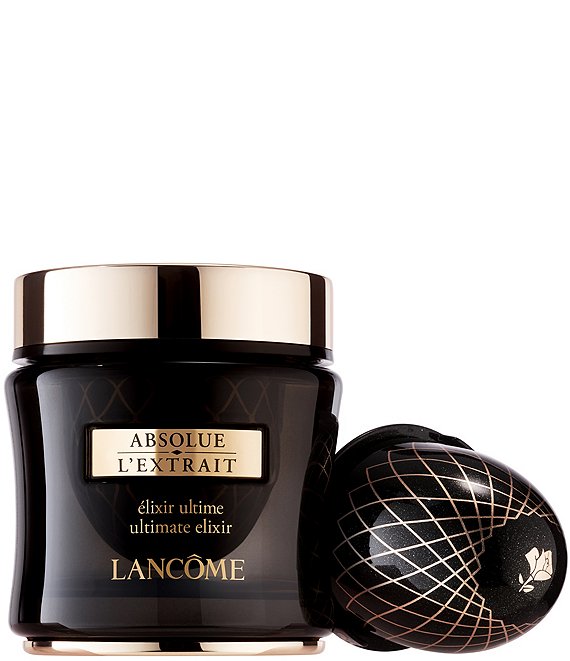 Lancome
Absolue LExtrait Cream Elixir Refill
Full Star
Full Star
Full Star
Full Star
Full Star
19 Reviews
An exceptional elixir exists. It contains up to 2 million Lancôme Rose native cells.
Extracted from the heart of the rare and resilient Lancôme Rose using an exclusive, state-of-the-art biotechnological process, these native cells are proven to extend their own exceptional properties to enhance skin's apperarance.
Each jar of Absolue L'Extrait contains up to 2 million of these precious native cells. Absolue L'Extrait helps reveal firmer, more elastic, more radiant skin for fascinating beauty.
Absolue L'Extrait. A masterpiece of rejuvenation.
Dermatologist tested.Suitable for sensitive skin.
Through a state-of-the-art biotechnological extraction process comes a line of Lancôme Rose native cells. Fermogenesis™, an exclusive process, preserves their capacities intact to perpetuate their integrity.
Absolue L'Extrait was evaluated during a clinical study on several age-defining parameters**. At eleven weeks of use, a significant improvement in each of these major signs was noted***.
Offering the best in Lancome skincare, Absolue L'Extrait represents our brands ideology, now and in the future. Convinced that luxury and environmental sustainability should co-exist, Absolue L'Extrait takes us on an environmental journey, for more ecological and ethical sustainability.
Refill your Absolue L'Extrait Cream Elixir in three simple steps:
Remove lid.
Twist capsule counterclockwise to remove from jar.

Replace capsule and twist clockwise to snap into place.

**Forehead wrinkles, frown lines, crow's feet, under eye wrinkles, nasolabial fold, wrinkles around the mouth.
***Based on a clinical study on 41 women.
1.7 oz.
Lancôme successfully combines scientific expertise and an intuitive understanding of women's needs to produce major innovations, unique and complementary between skincare, makeup and perfume. Lancôme affirms that happiness is the most attractive beauty. More than ever before, the brand aims to offer every woman the possibility to blossom and embrace her beauty and femininity whatever her age or skin color.
Ratings & Reviews
5
Full Star
Full Star
Full Star
Full Star
Full Star