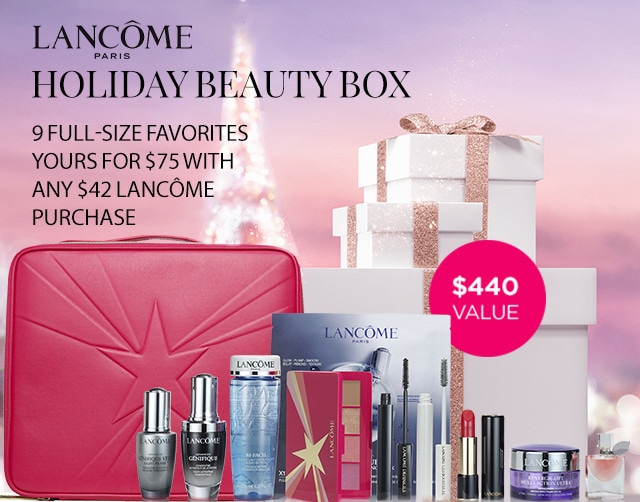 Lancome
Hydra Zen Oily/Combination Set
Rated 5 out of 5 stars
Rated 5 out of 5 stars
Rated 5 out of 5 stars
Rated 5 out of 5 stars
Rated 5 out of 5 stars
1 Review
Rated 5 out of 5 stars
This Limited Edition Set Includes:
1.7-oz.Crème Radiance
1.7-oz.Tonique Radiance
1.7-oz.Full Size Hydra Zen Gel Cream
Crème Radiance, a gentle cream-to-foam cleanser that penetrates deep into the pores without over-drying to gently remove makeup, even waterproof, while dissolving impurities and purifies the skin.
Tonique Radiance is a refreshing toner that exfoliates and purifies in one easy step.
Hydra Zen Gel Cream is an oil-free moisturizer with a bouncy, gel-like texture that provides up to 24-hour hydration and soothes distressed skin for a visible glow.
Skin looks radiant, feels soothed and hydrated. Protected from free radicals, skin feels soft, newer and looks fresher.
Benefits:
Hydra Zen improves the skin's moisture barrier function and instantly reduces signs of fatigue, revealing skin that feels smoother and fresher.
Instantly - Skin seems softer, smoother, and more radiant.
In 1 Application - Skin's surface barrier is strengthened, helping to lock hydration in the skin.
Day after Day - Skin seems revitalized and signs of stress are visibly reduced.
Lancôme successfully combines scientific expertise and an intuitive understanding of women's needs to produce major innovations, unique and complementary between skincare, makeup and perfume. Lancôme affirms that happiness is the most attractive beauty. More than ever before, the brand aims to offer every woman the possibility to blossom and embrace her beauty and femininity whatever her age or skin color.
Ratings & Reviews
5
Rated 5 out of 5 stars
Rated 5 out of 5 stars
Rated 5 out of 5 stars
Rated 5 out of 5 stars
Rated 5 out of 5 stars