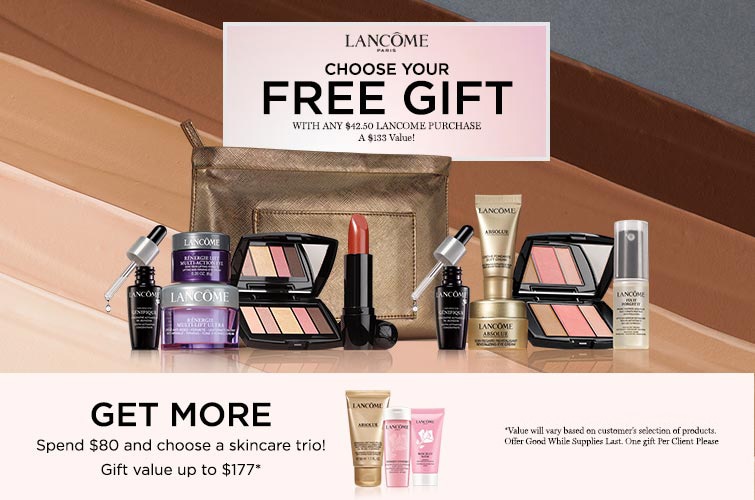 Lancome
Lash Party Mascara Set
Full Star
Full Star
Full Star
Full Star
Half Star
10 Reviews
This Set Includes: 3X Full-Size Products!
Défincils Mascara High Definition Mascara in Black FULL-SIZE 0.21 fl. oz. (6.2mL)
Lash Idole Mascara Lash-Lifting & Volumizing Mascara in Black FULL-SIZE 0.27 fl. oz. (8mL)
Hypnose Drama Mascara Instant Volume Mascara in Black FULL-SIZE 0.22 fl. oz. (6.5mL)
Cils BoosterSuper-Enhancing Mascara Base0.13 fl. oz. (4mL)
Start by applying primer to your lashes with Cils Booster to maximize your mascara's performance and condition even the shortest of lashes. This mascara base helps protect lashes while boosting your mascara's effect: intensified color, more length, curve, and thickness without clumping or smudging. Use Défincils Mascara for natural-looking, yet noticeable eyes. This award-winning mascara provides the ultimate lash separation and instantly delivers longer high-definition lashes. Its unique brush applicator holds the perfect amount of product for gradual, even application every time. Or, apply Lash Idole Mascara for fanned out, clump-free voluminous lashes. This curved mascara wand targets and volumizes every single lash for instant lash lift and length. Or, apply Hypnose Drama Mascara for intense, dramatic lashes. This mascara comes with a triple coating system that delivers a fluid and creamy application to quickly build big, battle lashes in a single coat without clumping or flaking.
Benefits:
CILS BOOSTER XL:
Micro-Fibers
D-Panthénol and Vitamin E
Triangular, thin-shaped brush
Provides a white base for mascara to cover
DÉFINICILS MASCARA:
Bio-selective polymers cling to the lashes through electrical attraction
Bristles are placed in "hedgehog" pattern
Each bristle is grooved to hold the product, allowing gradual application and even spread of the formula
LASH IDOLE MASCARA:
In a consumer test realized on a panel of 103 women:
95% saw an instant lash lift
94% saw instant volume
90% saw clump-free lashes
HYPNOSE DRAMA MASCARA:
New oversized S-shaped curve full contact Convex Brush
Texturizing Complex formula with highly saturated waxes
Triple Coating System enriched with Pro-Vitamin B5
Deep Carbon Black Pigments
Lancome Summer 2021 Gift with Purchase. Choose Your FREE* 6 Piece Gift with any Lancome Purchase of $42.50*
ABSOLUE Revitalizing & Brightening Choice
Absolue Revitalizing Brightening Soft Cream, 0.16-oz.
Absolue Revitalizing Eye Cream, 0.16-oz.
Advanced Génifique Face Serum, 0.27-oz.
Blush Subtil Palette Trio in Rose Flush, 0.07-oz.
Fix It Forget It Makeup Setting Spray, 0.3-oz.
Exclusive Bag
OR
RENERGIE Lifting & Firming Choice
Rénergie Lift Multi-Action Ultra Moisturizer SPF 30, 0.5-oz.
Rénergie Lift Multi-Action Eye Cream, 0.2-oz.
Advanced Génifique Face Serum, 0.27-oz.
Color Design Eye Palette 5 Pan in Lancôme Loves Women, 0.07-oz.
Color Design Lipstick in Sugared Maple, 0.14-oz.
Exclusive Bag
Lancome skincare trio FREE* with any Lancome purchase of $80 or more
Receive 3 additional skincare favorites with any $80 or more Lancôme Purchase. Gift value up to $177*.
Absolue Oil-In-Gel Cleanser, 1.7-oz.
Tonique Confort, 1.7-oz.
Rose Jelly Mask, 1-oz.
*Quantities are limited. One Gift per Client Please. Value will vary based on customer's selection of products.
Lancôme successfully combines scientific expertise and an intuitive understanding of women's needs to produce major innovations, unique and complementary between skincare, makeup and perfume. Lancôme affirms that happiness is the most attractive beauty. More than ever before, the brand aims to offer every woman the possibility to blossom and embrace her beauty and femininity whatever her age or skin color.
Ratings & Reviews
4.9
Full Star
Full Star
Full Star
Full Star
Half Star