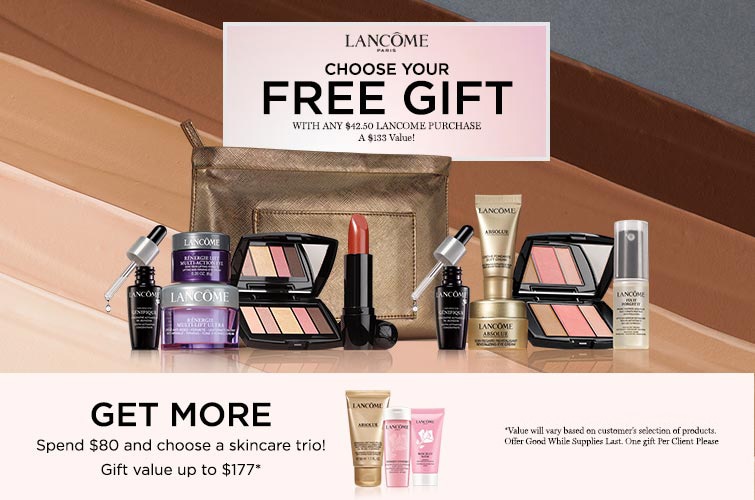 Lancome
Renergie Lift Multi Action Cream Lifting & Firming Duo
Full Star
Full Star
Full Star
Full Star
Full Star
3 Reviews
Minimize signs of aging within one week with our visibly lifting and firming duo! This Limited-Edition Duo Includes: 2 Full-Size Products!
Rénergie Lift Multi-Action Ultra Face Cream Sunscreen Broad Spectrum SPF 30 FULL-SIZE 1.7 fl. oz. (50mL)
Rénergie Lift Multi-Action Night Lifting and Firming Night Cream FULL-SIZE 2.6 fl. oz. (75mL)
Anti-aging meets sun protection with Rénergie Lift Multi-Action Ultra Cream with SPF 30. A sunscreen and face cream in one, this anti-aging moisturizer lifts, firms and corrects dark spots. Plus, luxurious feeling, its lightweight texture melts upon contact with skin. At the end of the day, replenish your skin with moisture overnight by using Rénergie Lift Multi-Action Night Cream. Wake up to smoother-looking skin as fine lines and wrinkles appear diminished.
Benefits:
Our lifting duo, enriched with Multi-Tension technology. Lift, firm and tighten, day and night. To help prevent future facial skin damage caused by the sun, this breakthrough SPF 30 face cream carries the Skin Cancer
Lancome Summer 2021 Gift with Purchase. Choose Your FREE* 6 Piece Gift with any Lancome Purchase of $42.50*
ABSOLUE Revitalizing & Brightening Choice
Absolue Revitalizing Brightening Soft Cream, 0.16-oz.
Absolue Revitalizing Eye Cream, 0.16-oz.
Advanced Génifique Face Serum, 0.27-oz.
Blush Subtil Palette Trio in Rose Flush, 0.07-oz.
Fix It Forget It Makeup Setting Spray, 0.3-oz.
Exclusive Bag
OR
RENERGIE Lifting & Firming Choice
Rénergie Lift Multi-Action Ultra Moisturizer SPF 30, 0.5-oz.
Rénergie Lift Multi-Action Eye Cream, 0.2-oz.
Advanced Génifique Face Serum, 0.27-oz.
Color Design Eye Palette 5 Pan in Lancôme Loves Women, 0.07-oz.
Color Design Lipstick in Sugared Maple, 0.14-oz.
Exclusive Bag
Lancome skincare trio FREE* with any Lancome purchase of $80 or more
Receive 3 additional skincare favorites with any $80 or more Lancôme Purchase. Gift value up to $177*.
Absolue Oil-In-Gel Cleanser, 1.7-oz.
Tonique Confort, 1.7-oz.
Rose Jelly Mask, 1-oz.
*Quantities are limited. One Gift per Client Please. Value will vary based on customer's selection of products.
Lancôme successfully combines scientific expertise and an intuitive understanding of women's needs to produce major innovations, unique and complementary between skincare, makeup and perfume. Lancôme affirms that happiness is the most attractive beauty. More than ever before, the brand aims to offer every woman the possibility to blossom and embrace her beauty and femininity whatever her age or skin color.
Ratings & Reviews
5
Full Star
Full Star
Full Star
Full Star
Full Star