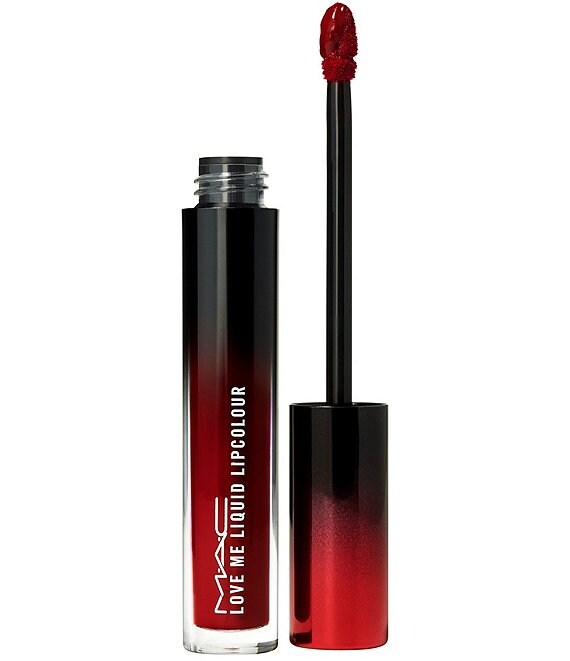 MAC
Love Me Liquid Lipcolour
Full Star
Full Star
Full Star
Full Star
Half Star
5368 Reviews
What It Is:
A hydrating argan oil- and shea butter-infused, rich and creamy liquid lip colour with a satin finish that wears for 12 hours.
What It Does:
Fall in lust with creamy, hydrating, decadently rich liquid colour with a lightweight, lush satin finish. Features a comfortable and nourishing formula infused with MAC's proprietary TLC Lip Complex that conditions and helps moisturize lips with a powerful blend of argan oil, coconut oil, shea butter, carnauba butter, barley extract and cucumber extract. What's more, MAC's exclusive ColourCling Technology harnesses the power of an advanced polymer to deliver 12-hour, non-feathering wear. A custom flexible, arrowhead-shaped applicator smoothly and evenly glides on the formula with a precision tip. Love Me always loves you back.
Features and Benefits:
Primer-infused formula
Moisturizing, 12 hours
Long-wearing, 12 hours
Nourishing, comfortable and conditioning, 12 hours
Non-bleeding, non-flaking and feather-resistant, 12 hours
Helps lips feel softer, smoother, more supple and appear immediately plumped
Delivers one-swipe, full-coverage colour
How to Use:
Use the custom flexible, arrowhead-shaped applicator to smoothly and precisely apply to lips as desired.
0.1-oz.
Make-Up Art Cosmetics started life in Toronto, Canada. Makeup artist and photographer Frank Toskan and salon owner Frank Angelo became frustrated by the lack of makeup that photographed well, so they decided to create their own. At first, they made the cosmetics in their kitchen and sold them straight from the salon to fellow makeup artists, as well as models and photographers. Soon, stylists and fashion editors got in on the action. As the magazine credits racked up and word-of-mouth popularity grew, the duo launched M·A·C in March 1984 from a counter in a Toronto department store.

Their approach was chic utility, with the makeup coming in black pots rather than compacts. While other major makeup brands at the time were predominantly skincare companies, M·A·C chose instead to establish itself as the ultimate colour authority. Professional makeup artists manned the counter, an industry first. One of the most popular offerings was an intense matte red lipstick, which got a boost with an appearance in a photo-shoot of the fast-rising Madonna, later seen wearing a M·A·C T-shirt.

The company took the industry by storm, offering a wide range of products that blended street savvy with glamorous style and panache.
Ratings & Reviews
4.37
Full Star
Full Star
Full Star
Full Star
Half Star