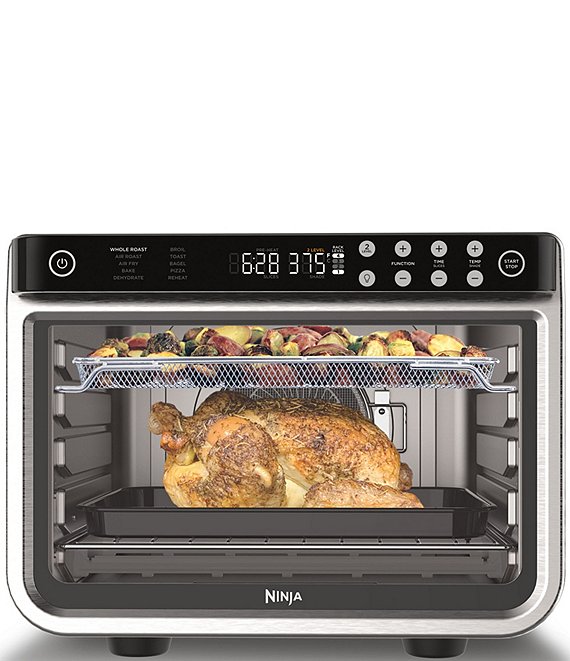 Ninja
Foodi™ 10-in-1 XL Pro Air Fry Oven, Large Countertop Convection Oven
Rated 4.13 out of 5 stars
Rated 4.13 out of 5 stars
Rated 4.13 out of 5 stars
Rated 4.13 out of 5 stars
Rated 4.13 out of 5 stars
180 Reviews
Rated 4.13 out of 5 stars
From Ninja, this oven features:
True Surround Convection™: Up to 10X the convection power vs. a traditional full-size convection oven for faster, crispier, and juicy results
Ultimate Versatility: Air Fry, Air Roast, Bake, Whole Roast, Broil, Toast, Bagel, Dehydrate, Reheat, and Pizza, all in one powerful 1800-watt appliance
Quick Family Meals: 90-second oven preheat time and up to 30% faster cooking than a traditional full-size convection oven
Extra-Large Countertop Oven Capacity: 2-level even cooking, no rotating required—fit a 5-lb chicken and a sheet pan of vegetables, 2 12-in pizzas, or a 12-lb turkey
Air Fryer Healthy Meals: Up to 75% less fat when using the Air Fry function vs. traditional deep frying* (*tested against hand-cut, deep-fried French fries)
Digital Display Handle: The optimal oven rack positions will illuminate based on the selected function. When the door is open, display settings freeze to prevent any accidental changes to the cook cycle
Crispier Results: Up to 30% crispier results vs. a traditional convection oven
Perfect Countertop Oven for Baking: Up to 50% more even baking results vs. a leading countertop oven
Dishwasher safe parts
Cord length: 3 (ft)
approx. 17.09" L x 20.22" W x 13.34" H
Imported.
Ninja's inspiring kitchen appliances make it quick and easy to prepare delicious, healthy food and drinks at home – whether you're cooking for yourself, entertaining friends or feeding a hungry family.

Ninja gives you more, with multiple functions in every appliance and automatic programs that do the hard work for you. From powerful Ninja blenders and precise food processors to versatile cooking appliances, including Ninja Foodi multi-cookers, grills, air fryers and more.

Every product is engineered in-house and designed for speed, power, ease and incredible results. Always innovating, our engineers continue to create new technologies that combat your food-prep frustrations.
Ratings & Reviews
4.13
Rated 4.13 out of 5 stars
Rated 4.13 out of 5 stars
Rated 4.13 out of 5 stars
Rated 4.13 out of 5 stars
Rated 4.13 out of 5 stars