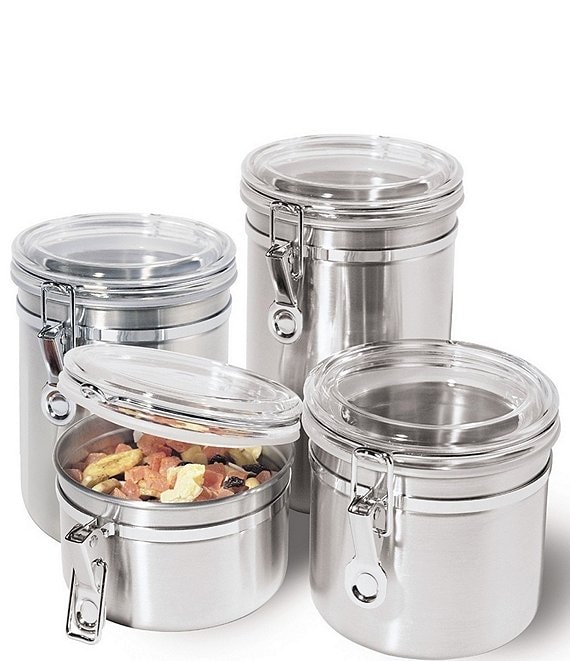 Oggi
4-Piece Airtight Stainless Steel & Acrylic Canister Set
From Oggi, these canisters feature:
satin-finished stainless steel
airtight clear acrylic lids
locking clamps and silicone gaskets to help preserve stored food items
wipe clean with damp cloth
This 4-piece set includes:
one 3.6 x 5 x 5" canister
one 4.6 x 5 x 5" canister
one 6.25 x 5 x 5" canister
one 7.75 x 5 x 5" canister
Imported.
At OGGI we strive to bring the best of housewares to you. Our in-house product development team based in Anaheim, California is constantly tuned-in to the latest trends for the kitchen & home. As the saying goes, the best things come in small packages, and by keeping things scaleable we are able to bring great, new product to market faster than our competitors, and always at a great price!

We believe that a product isn't just for selling, it's for using, and that's why all our team uses OGGI products in their daily lives. We know that the product development cycle doesn't end when a new item is launched, but rather it is an iterative cycle, where there is always room for improvement. We aren't reinventing the wheel, but we think it makes sense to change the tires once in a while.
Ratings & Reviews
No reviews
Empty Star
Empty Star
Empty Star
Empty Star
Empty Star