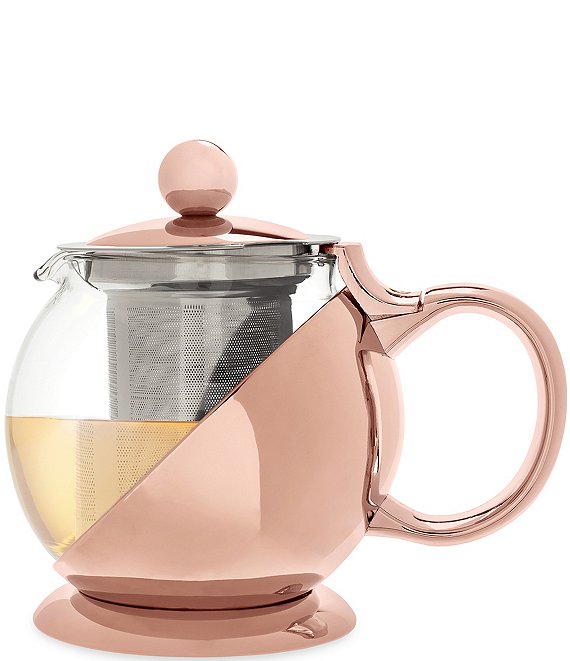 Pinky Up
Shelby Rose Gold Wrapped Teapot & Infuser
Rated 3.5 out of 5 stars
Rated 3.5 out of 5 stars
Rated 3.5 out of 5 stars
Rated 3.5 out of 5 stars
Rated 3.5 out of 5 stars
2 Reviews
Rated 3.5 out of 5 stars
Looking to add some style to your loose leaf tea experience? This durable glass and metal teapot and infuser let you do just that. Peek through the glass to make sure your brew is dark enough for your taste and rinse out the infuser when you're done (or ready to make more)!
Borosilicate glass
Stainless steel wrap adds stylistic interest to design

Includes stainless steel infuser for loose leaf tea

Perfect size for tea for two

Hand wash

Measures: 6.25L x 4.25W x 6.25H

Capacity 24-oz

Weight 1.2lbs

Teapot and Infuser included

Imported.
Pinky Up tea is about guilt-free indulgence — a way to enjoy great flavor with no calories. Do it in style with our line of on-trend tea time accessories.

The brand was created in 2016 in Seattle by a group of women who love tea and want high-quality ingredients packaged with fun, feminine flair. From brewing, to serving, to sipping, Pinky Up has tea time nailed down.
Ratings & Reviews
3.5
Rated 3.5 out of 5 stars
Rated 3.5 out of 5 stars
Rated 3.5 out of 5 stars
Rated 3.5 out of 5 stars
Rated 3.5 out of 5 stars