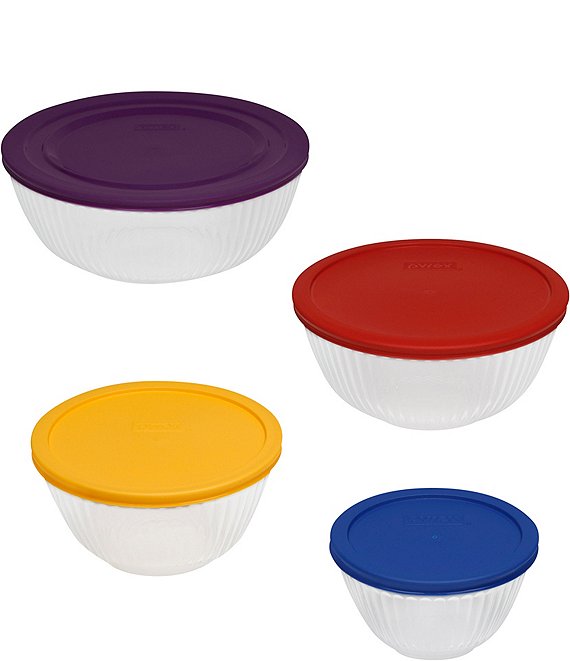 Pyrex
8-Piece Sculpted Mixing Bowl Set
Rated 5 out of 5 stars
Rated 5 out of 5 stars
Rated 5 out of 5 stars
Rated 5 out of 5 stars
Rated 5 out of 5 stars
3 Reviews
Rated 5 out of 5 stars
From Pyrex, this 8-piece sculpted mixing bowl set features:
non-porous glass that won't absorb food odors, flavors or stains
clear glass for visibility while cooking
oven-, microwave-, refrigerator-, freezer- and dishwasher-safe
This set includes:
4.75-quart bowl with purple lid
2.5-quart bowl with red lid
1.5-quart bowl with yellow lid
0.75-quart bowl with blue lid
Made in USA.
Born of innovation, the iconic Pyrex brand evokes some of our fondest family food memories, and has had a place in our hearts and homes for over 100 years. Pyrex glassware—made for both purpose and passion—has been passed down from generation to generation, and for good reason. And our new Pyrex products, designed specifically for the ways we make and share food today, will be loved for years to come.
Ratings & Reviews
5
Rated 5 out of 5 stars
Rated 5 out of 5 stars
Rated 5 out of 5 stars
Rated 5 out of 5 stars
Rated 5 out of 5 stars