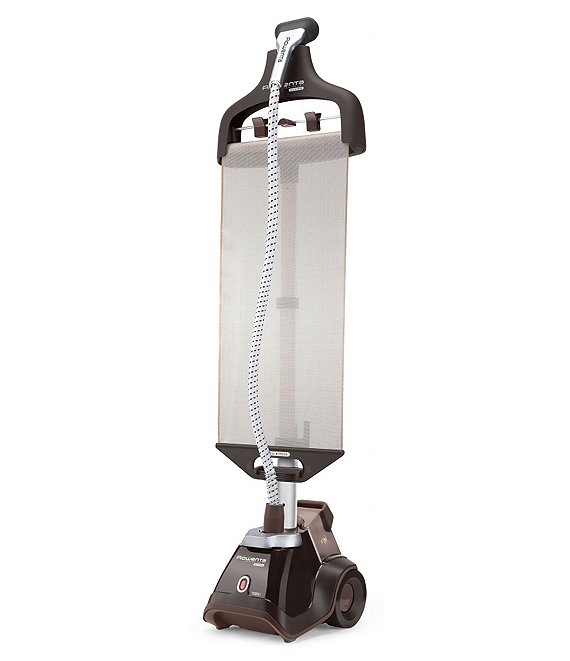 Rowenta
Master Valet Portable Garment Steamer
Rated 4 out of 5 stars
Rated 4 out of 5 stars
Rated 4 out of 5 stars
Rated 4 out of 5 stars
Rated 4 out of 5 stars
3 Reviews
Rated 4 out of 5 stars
The portable, full-size Rowenta Master Valet Garment Steamer powerfully removes wrinkles and refreshes clothing and furnishings of all fabric types. Its exclusive vertical support system works like an ironing board, providing a solid surface under your item during steaming and freeing one hand so you can work more quickly and efficiently. The compact unit rolls suitcase-style to any room of the house. Exclusive Roll & Press system provides vertical support similar to an ironing board, allowing for clothing to be pressed while steaming. High steam output output and wide diffusion from large steam head provides quick, efficient wrinkle removal for garments, drapes and upholstery. Sanitizes and removes odors. Features:
ready to use in 60 seconds
80 oz.-capacity water tank provides up to 1.5 hours of continuous steam
height-adjustable aluminum pole with built-in garment hanger, clips and hook
insulated fabric hose stays cool to the touch
wheels allow for smooth transport
compact design for easy storage
Steamer includes:
fabric brush
lint pad
steam bonnet
built-in hanger with two garment clips and hook
insulated fabric hose
removable water tank
approx. 14.5 x 12 x 66"; approx. 47" steam cord length; approx. 108" electric cord length; 1550 watts; approx. 13 lbs.
Imported.
Made for US standard 110 voltage. Converter required for international voltage (220V, etc.).
Since 1909, German brand Rowenta has captivated the most demanding consumers with high-quality products that guarantee perfect results.

Rowenta offers a wide range of products that combine unrivalled technological performance, refined design, and a high level of user-friendliness.

Its mission is to ensure the day-to-day well-being of its users thanks to intelligent solutions for vacuum cleaners, irons, steam generators and hair dryers.
Ratings & Reviews
4
Rated 4 out of 5 stars
Rated 4 out of 5 stars
Rated 4 out of 5 stars
Rated 4 out of 5 stars
Rated 4 out of 5 stars