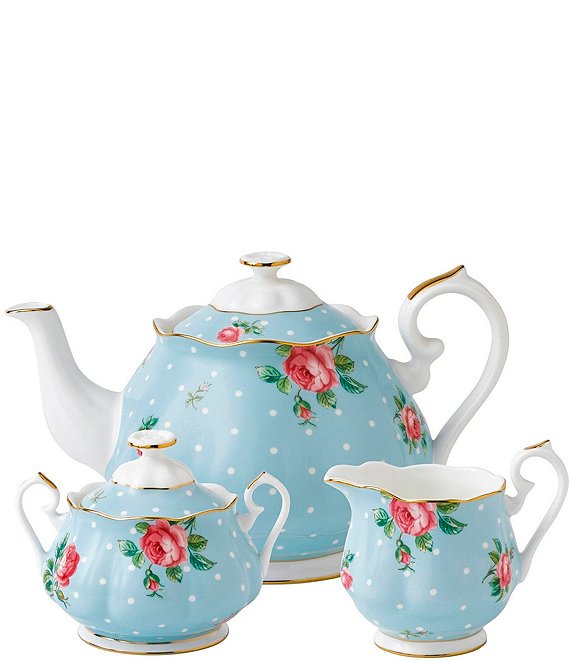 Royal Albert
Polka Blue 3-Piece Tea Set
From Royal Albert, this 3-piece tea set features:
Featuring a beautiful Floral, Polka Dots, and mixed pattern
Fine bone china
Lustrous gold rim
Scalloped edges
Perfect to create a Country Cottage, Romantic look in your home
Hand Wash Recommended
Includes:
Teapot approx. 6.4" H x 6.4" W x 10" D; capacity 42 oz.
Covered sugar bowl approx. 4.5" H x 4.5" W x 2.8" D; capacity 9 oz.
Creamer approx. 3.7" H x 3.4" W x 3.3" D
Imported.
DMS: 0711 880 POLBLU25823
Established in 1896, we are inspired by everything English; from the national flower, the rose, to the beautiful blooms of a colourful garden.

We firmly believe that by sipping on a cup of tea from beautifully made bone china you can escape to a charming world, filled with romance and nostalgia. Our range of English china has been admired for generations thanks to its lightness and almost pearly white quality, meaning that you can add a touch of vintage luxury to any afternoon tea.
Ratings & Reviews
No reviews
Rated 0 out of 5 stars
Rated 0 out of 5 stars
Rated 0 out of 5 stars
Rated 0 out of 5 stars
Rated 0 out of 5 stars