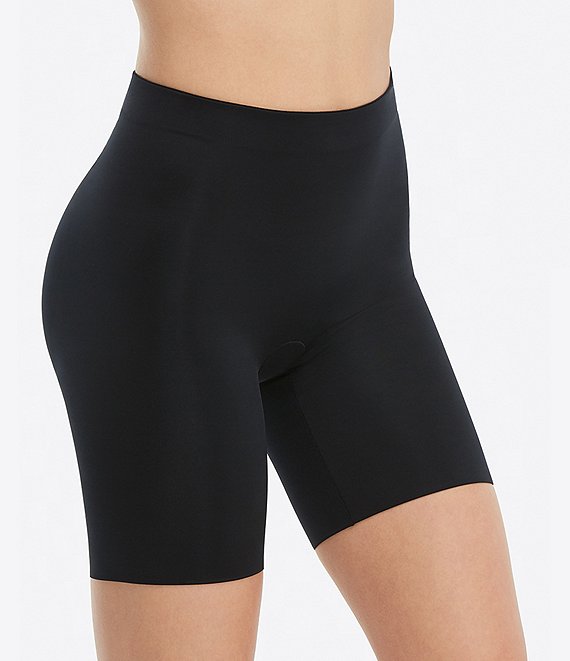 Spanx
Suit Your Fancy Booty Booster Mid-Thigh Shaper
Rated 3.6 out of 5 stars
Rated 3.6 out of 5 stars
Rated 3.6 out of 5 stars
Rated 3.6 out of 5 stars
Rated 3.6 out of 5 stars
5 Reviews
Rated 3.6 out of 5 stars
From Spanx, this booty booster features:
Built-in Booty Booster for an enhanced shape
Can be worn with or without pads. Pads graded by size for a natural-looking lift
360° double-layered fabric: the first layer shapes, the second conceals lumps and bumps. Designed with cellulite in mind
Silky, lightweight fabric feels like a dream
Non-binding leg for a smooth fabric-to-skin transition
Cotton gusset makes panties optional and eliminates VPL (Visible Panty Lines)
Support Level 2: Shape - A Firm Hug
Nylon/Elastane
Machine wash
Imported.
Founded by Sara Blakely, Shapewear from tummy-taming tops to rear-refining bottoms. Solve Your Wardrobe Woes. Your Full Closet Unlocked. Styles: Leggings, Tights & Sheers, Shorts. Whether you are looking for targeted shaping or an all-over smoothing body shaper, SPANX has a shapewear solution for you! Each pair of SPANX shapewear leggings was made with comfort and style in mind so you can always look and feel like the best version of yourself… no matter where you are. Whether you're heading to the gym or out running errands, our leggings are designed to fit every body type and fit into any wardrobe. SPANX also shapes the world by focusing on our mission: To help women feel great about themselves and their potential.
Ratings & Reviews
3.6
Rated 3.6 out of 5 stars
Rated 3.6 out of 5 stars
Rated 3.6 out of 5 stars
Rated 3.6 out of 5 stars
Rated 3.6 out of 5 stars