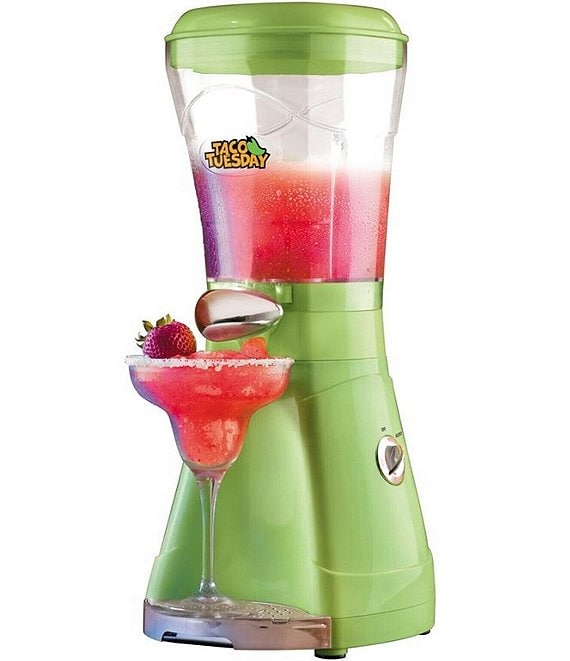 Taco Tuesday
64-Oz. Margarita & Slush Maker With Easy-Flow Spout
From Taco Tuesday, this margarita and slush maker features:
Bring the thirst quenching fun to any occasion with the Taco Tuesday Margarita and Slush Maker The powerful motor quickly shaves ice to the perfect consistency and makes up to 64 ounces of your favorite slush drink. The easy flow spout dispenses consistently smooth frozen drinks while the blending chamber detaches from the base for easy clean up. Includes a detachable cup rest and drip tray. Make every Fiesta a Taco Tuesday.
64 oz. capacity is great for making margaritas, slush drinks, daiquiris and more perfect for any Fiesta.
Powerful motor crushes ice perfectly, no large chunks like regular blenders can leave behind.
Simply fill the chamber with regular sized ice cubes, add your favorite liquor, drink mix or fruit, place the lid on top and start blending.
Turn the spout to dispense consistently smooth, frozen drinks.
Shaving blending chamber detaches from base for an easy clean up.
Includes: Detachable cup rest allows you to place your glass under the spout for easy serving while the drip tray will catch any unwanted mess.
Cord storage in bottom of unit allows for tidy storage
Measures approx. 8" x 9" x 18"
Weight 4.9lbs.
Imported.
Since the beginning, Nostalgia™ has made its mission simple – to introduce quality family fun and entertainment into our consumers' everyday lives. We will forever strive to create and capture fun family moments like these – and with our new Taco Tuesday line, we will do just that. Taco Tuesday - a timeless tradition made more convenient, family and friends can gather around to enjoy authentic Mexican meals. Innovative and affordable, Taco Tuesday's new line will help you get the most flavor out of your food – creating the most authentic Mexican dishes. So break out the tortilla chips and let's have a fiesta!
Ratings & Reviews
No reviews
Rated 0 out of 5 stars
Rated 0 out of 5 stars
Rated 0 out of 5 stars
Rated 0 out of 5 stars
Rated 0 out of 5 stars