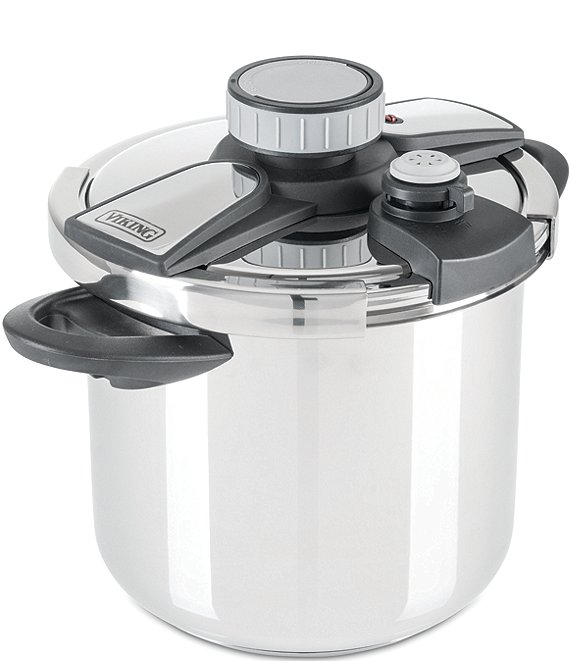 Viking
Easy Lock 8-Quart Stainless Steel Clamp Pressure Cooker with Steamer
Rated 1 out of 5 stars
Rated 1 out of 5 stars
Rated 1 out of 5 stars
Rated 1 out of 5 stars
Rated 1 out of 5 stars
3 Reviews
Rated 1 out of 5 stars
From Viking, this pressure cooker features:
3-Ply Base for Even Heat Distribution
Innovative clamp-style lid allows cook to lock in any position
Pressure Cooker works on all stove types, including induction
Open & Close the Lid with the Turn of a Knob
Quick Release valve for fast pressure release
Surgical-grade stainless steel with no react with food
Included steamer basket for delicate ingredients
Convenient interior markings allow for easy liquid measurements and indicate the maximum fill point
Helps to preserve the natural vitamins and minerals in your food while saving up to 70% of the energy and cooking 3-4 times faster than conventional cooking methods
Multi-stage pressure control valve easily switches between High-pressure, Low pressure and release
Approx. 8-quart capacity
Approx. 7.46 lbs
Hand wash only
Manufacturer limited lifetime warranty
Replacement gaskets fits pressure cooker; sold separately
Imported.
DMS: 0724 076 4050-28QBLK
We introduced professional cooking to the home in 1987 with the introduction of our flagship ranges and gourmets all over the world rejoiced. Then we added cooktops, rangetops, ovens, and everything in between. We've made quite a few upgrades over the years, but these are still the ultra-premium appliances people see when they dream of a professional kitchen. Viking is again revolutionizing ultra-premium appliances by incorporating proven technology and innovative features, once reserved for commercial kitchens, into Viking appliances for your home.
Ratings & Reviews
1
Rated 1 out of 5 stars
Rated 1 out of 5 stars
Rated 1 out of 5 stars
Rated 1 out of 5 stars
Rated 1 out of 5 stars