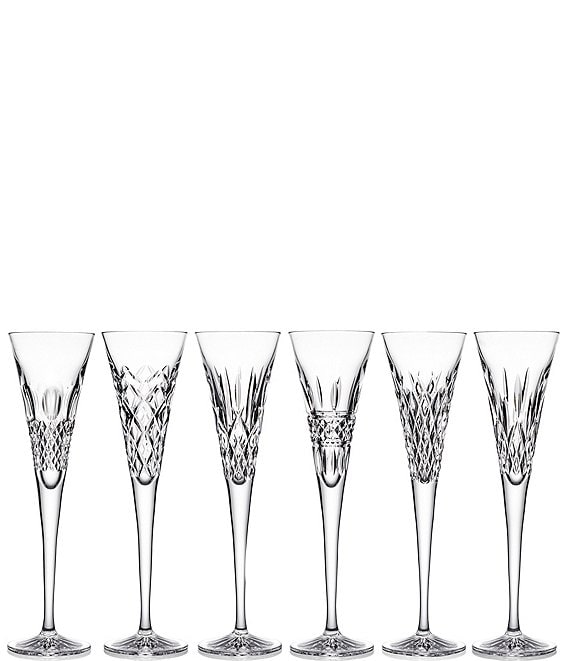 Waterford
Crystal Heritage Flutes Set of 6
From Waterford, this flutes set features:
Raise a toast with the Heritage Flute Set of 6, ideal for any champagne cocktail or sparkling beverage. Featuring an elegant tall Flute shape with six of our most popular patterns from the Waterford Archives that complement each other perfectly - Araglin, Powerscourt, Lismore, Colleen, Irish Lace and Alana. Celebrate every moment with the luxury of Waterford. Perfect for every occasion - from a casual dinner to celebratory gathering with friends and family.
Crystal
Heritage Collection
Approx. 10.6", Capacity 5-oz
Hand Wash Recommended
Imported.
Waterford Crystal was first established in 1783 on land adjacent to Merchants' Quay in the heart of the Irish harbor town of Waterford, just minutes from the present-day House of Waterford Crystal. Its founders were brothers George and William Penrose, important developers and principal exporters in the city. Their vision was to "create the finest quality crystal for drinking vessels and objects of beauty for the home." More than two hundred years later, the reputation they established for creating luxury crystal of unsurpassed beauty and quality has transcended the intervening centuries.
Ratings & Reviews
No reviews
Rated 0 out of 5 stars
Rated 0 out of 5 stars
Rated 0 out of 5 stars
Rated 0 out of 5 stars
Rated 0 out of 5 stars