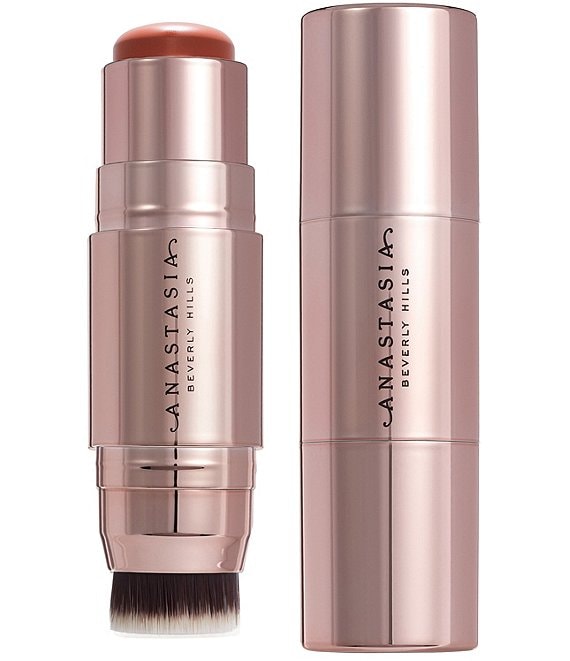 Rated 4.68 out of 5 stars
Rated 4.68 out of 5 stars
Rated 4.68 out of 5 stars
Rated 4.68 out of 5 stars
Rated 4.68 out of 5 stars
645 Reviews
Rated 4.68 out of 5 stars
Anastasia Beverly Hills Stick Blush is an ultra-lightweight cream blush that melts into skin and creates radiant, natural-looking color with a seamless finish. Stick Blush glides onto skin with ease, delivering a long-lasting, soft-focus effect that blurs and diffuses for a skin-perfecting glow. This buildable and blendable formula means that you can easily go from a sheer wash to a more intense, vivid pop, and it will not streak or smudge the complexion layers underneath. Use the luxe attached brush for convenient application, making it the perfect on-the-go choice for all skill levels. Stick Blush is available in five naturally-flattering shades for all skin tones.

WHY YOU'LL LOVE IT:

• Ultra-lightweight, cream formula melts into skin for natural-looking, radiant color
• Delivers a second-skin effect with a seamless finish and customizable intensity
• Buildable and blendable formula that is easy-to-apply
• Glides onto skin with ease for effortless, longwearing color with comfortable wear
• Delivers smooth color that never feels sticky or greasy with no streaking or settling in lines
• Soft focus effect blurs and diffuses for fresh-faced, glowing skin
• Can be applied on bare skin or layered on top of makeup without disrupting
• Includes a synthetic brush for precise application and blending for quick use at home or on-the-go
• Sleek component with luxe, rose gold packaging that fits perfectly in your makeup bag
• Available in 5 naturally-flattering shades for all skin tones
• Cruelty-Free, Paraben-Free, Phthalates-Free, Mineral-Oil Free, Fragrance-Free, Oil-Free

HOW TO APPLY:

• Swipe a small amount of Stick Blush to the center of the cheek directly from the stick, then blend upwards towards the hairline using the brush. Use circular motions to blend and tapping motions to build color. Layer for desired intensity.

PRO TIPS:

• Can be applied with fingertips or brush. Sweep fingertips or brush over the stick to pick up color, then apply to the cheeks using tapping motions to blend out edges.
• For a light flush, tap on with your fingers and blend out edges.
• For a bold blush look, use pressing motions in desired placement and blend out edges.
• Apply a flush of color to the center of the bridge of the nose for a youthful look.
• Apply to bare lips for a natural flush of color.
DMS: 0096 313 ABH01-18658
Beauty pioneer, creative visionary and powerhouse entrepreneur Anastasia Soare is Founder, CEO, and driving force behind Anastasia Beverly Hills—one of the fastest-growing brands in the global beauty industry. Soare immigrated to the US from Romania without language skills or financial means; instead she leveraged a fierce resolve and education in art and architecture to fuel her entrepreneurial vision and unique approach to beauty. In 1990, she introduced a new "brow-shaping" service to clients—later patented as the "Golden Ratio" method—that has gone on to become a staple service and enduring new category in modern beauty. Soare continues to push boundaries today, expanding beyond the brow category with the company's leading prestige cosmetics line. Her capacity for driving growth through innovation and organizational focus on customers has become a hallmark of her leadership and the ABH brand. Soare's gift as artist and entrepreneur is complemented by an ease and grace with customers with whom she connects daily in video tutorials and personal appearances around the world. Her audience spans the globe and comprises many of its most famous faces, who rely on her unique vision of individual beauty to amplify their own. ABH has received industry-wide recognition for digital innovation and numerous accolades for products such as cult-classics Brow Wiz, Contour Kit, and Liquid Lipstick.
Ratings & Reviews
4.68
Rated 4.68 out of 5 stars
Rated 4.68 out of 5 stars
Rated 4.68 out of 5 stars
Rated 4.68 out of 5 stars
Rated 4.68 out of 5 stars