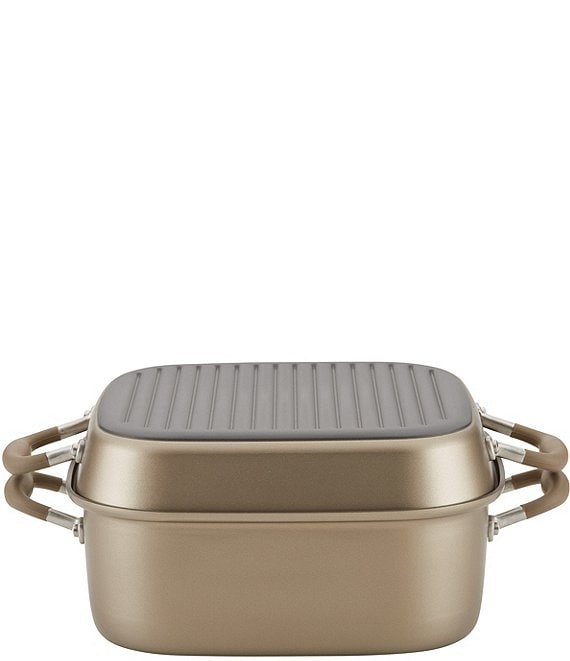 Anolon
Advanced Home Hard-Anodized Nonstick Two Step Meal Set
Flavorful home-cooked meals are a daily reward with the Anolon Advanced Home Hard-Anodized Nonstick Two Step Meal Set -- a versatile combination of a 7-Quart Roaster and an 11-Inch Deep Square Grill Pan that also acts as a convenient lid for the roaster.
Anolon Advanced Home starts with the long lasting hard-anodized aluminum durability and even heating that Anolon is known for and adds the new Infinity Slide System for the best in nonstick performance and easy cleanup that will keep cooking and looking like new, even with daily use.
Comfortable Anolon SureGrip handles and the multipurpose convenience of a grill pan that acts a lid for the roaster make everyday cooking more enjoyable so you can roast to perfection.
Designed for daily creativity and easy 2-1 combo weeknight meals, the Anolon Advanced Home Two Step Meal Set combines durability, performance, and convenience so every meal is a win.
Hand wash only
Handles: Silicone with Stainless Steel
Oven-safe 400°F
Stove Top Suitable: Electric, Gas, Glass-Ceramic
Imported.
In 1986, Anolon pioneered the hard-anodized nonstick pan.

For almost four decades, we've made pots, pans, and tools that are thoughtfully designed around our chef's demanding needs, carefully made, and forever functional.

Our Philosophy

While great meals are often the markers of an incredible experience, it's the art and act of cooking that nourishes our chefs most. And we're here to help with finely crafted, durable, and reliable cookware that will always stand up to the task.
Ratings & Reviews
No reviews
Rated 0 out of 5 stars
Rated 0 out of 5 stars
Rated 0 out of 5 stars
Rated 0 out of 5 stars
Rated 0 out of 5 stars