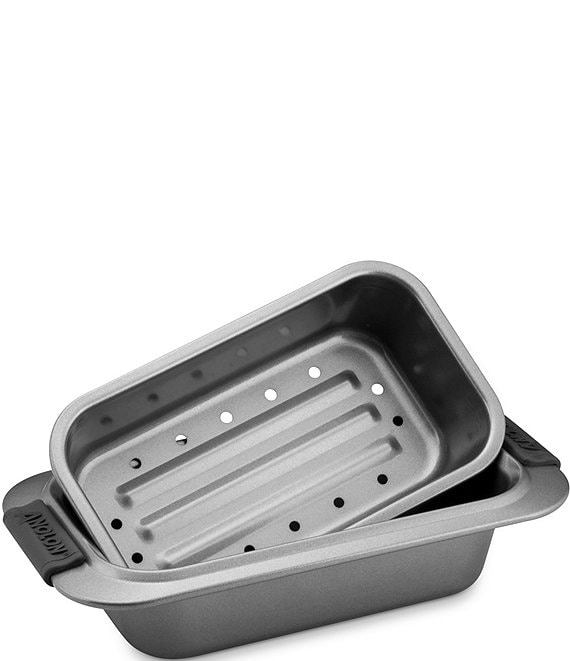 Anolon
Advanced Nonstick Bakeware 2-Piece Loaf Pan & Insert Set
Rated 4.8 out of 5 stars
Rated 4.8 out of 5 stars
Rated 4.8 out of 5 stars
Rated 4.8 out of 5 stars
Rated 4.8 out of 5 stars
5 Reviews
Rated 4.8 out of 5 stars
From Anolon, this 2-piece backing set features:
medium color tone that aids in even browning
resists warping and provides the even heat distribution
durable nonstick surface for optimum food release
wide rims and handles fitted with silicone grips
convenient drip pan insert
approx. 9 x 5" each
oven safe to 450° F
heavy-duty carbon steel
hand wash
Imported.
In 1986, Anolon pioneered the hard-anodized nonstick pan.

For almost four decades, we've made pots, pans, and tools that are thoughtfully designed around our chef's demanding needs, carefully made, and forever functional.

Our Philosophy

While great meals are often the markers of an incredible experience, it's the art and act of cooking that nourishes our chefs most. And we're here to help with finely crafted, durable, and reliable cookware that will always stand up to the task.
Ratings & Reviews
4.8
Rated 4.8 out of 5 stars
Rated 4.8 out of 5 stars
Rated 4.8 out of 5 stars
Rated 4.8 out of 5 stars
Rated 4.8 out of 5 stars