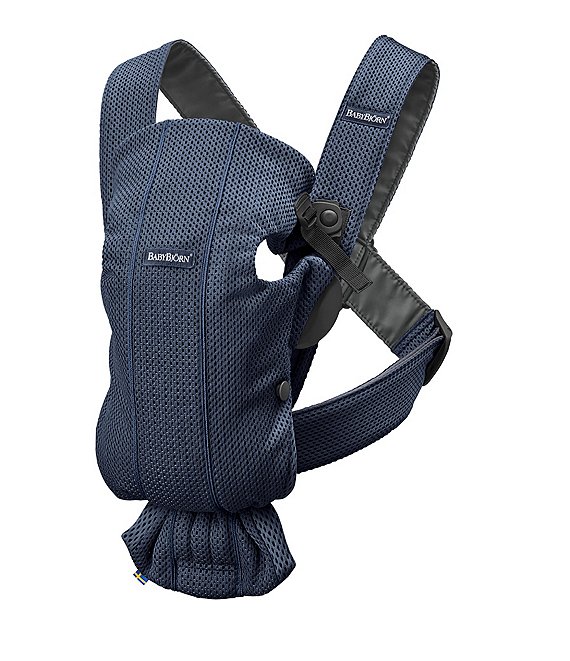 Baby Bjorn
BABYBJORN Mesh Baby Carrier Mini
From BABYBJORN, this baby carrier features:
Baby Carrier Mini is very easy to use, with just a few adjustable buckles. This means you can quickly put it on, day or night, to comfort or lull your newborn to sleep. You can easily unfasten the entire front section of the baby carrier to lift out your sleeping newborn. The size and head support are fully adjustable, which means you can easily adapt Baby Carrier Mini as your newborn grows.
The super-soft fabrics in Baby Carrier Mini create a cozy space for your newborn and are comfy against their delicate skin. The baby carrier gently hugs your newborn's back, legs and hips and gives good sitting support in a comfy, ergonomic position. You can check your newborn's position and the natural C-curve of their back with your hands through the fabric.
Baby Carrier Mini is small, which makes it easy to stuff into your diaper bag or under the stroller when you're not using it.
Good head support is very important both for a newborn and during the first five months until your baby can hold its head up unaided. Baby Carrier Mini has sturdy, adjustable support for both the head and neck.
When carrying your newborn in a baby carrier, your hands are free for other things. Perfect for when your newborn baby needs a lot of closeness.
Carry on your front either facing in or facing out.Your baby should be at least five months old before you use the facing-out position.
Age and weight: Most suitable during your baby's first months. Tested and safe for 0-1 years (min. 7 lbs/3.2 kg, max. 25 lbs/11 kg).
Your baby should be at least five months old and weigh no more than 24 lbs/11 kg to use the facing-out position. The leg straps should be used to reduce the size of the leg openings for babies weighing between 7 lbs/3.2 kg and 10 lbs/4.5 kg.
Imported.
*Returns not accepted on any opened, used, or defective product. Contact manufacturer directly for further defective products/parts.
Ratings & Reviews
No reviews
Empty Star
Empty Star
Empty Star
Empty Star
Empty Star