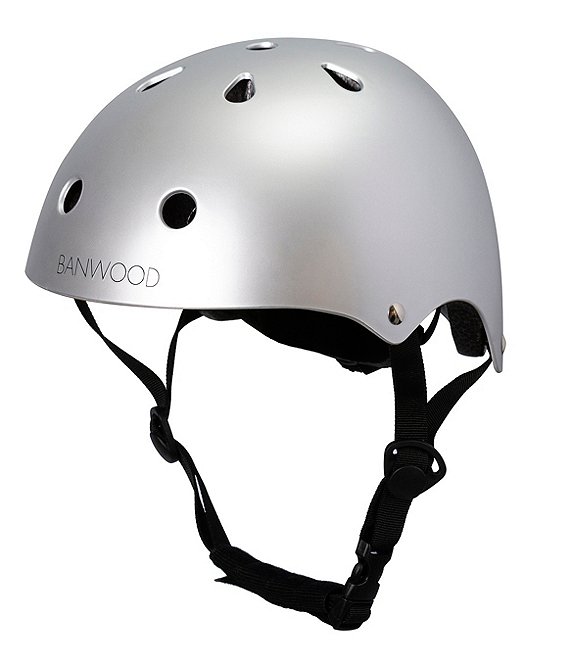 From Banwood Bikes, this helmet features:
Banwood kids helmets are the ideal for the smallest ones to keep safe when joining in for a ride in the street, park, garden, etc.
They have a durable ABS outer shell for the maximum protection and street styled design in various stylish colors.
Our children's bicycle helmets are available in one size and have a dial-fit adjustment system in the back and the adjustable chin strap, which provides an individual fitting of the helmet, for maximum comfort and stable fit.
Durable ABS shell
Inside material: velvet and sponge
Protective inner foam lining
Dial-fit adjustment system for comfort fit
Adjustable chinstrap
Front, top and back ventilation
Banwood logo print on front
Approx. 285-295g weight
Approx. 48-57 cm
Suitable for ages 3-7 years old
Imported.
Banwood® creates contemporary designs with a touch of mid-century charm, influenced by Scandinavian design.

Our Balance bikes for toddlers are made using sturdy and durable high-quality materials. The frames are steel and the handlebars aluminium. The saddles and grips of these Kids Bikes are cut from high-end faux leather; a material suitable for all weathers and easy to wipe off. The detachable wicker basket is made of rattan and is ideal for packing the essentials for a day's adventure.

We pay close attention to each step in the process, from design and manufacture to delivery and use of the balance bikes, so that we can ensure a great experience.

Our first bikes are rigorously tested to fulfil strict safety and quality standards as well as our own high expectations.
Ratings & Reviews
No reviews
Rated 0 out of 5 stars
Rated 0 out of 5 stars
Rated 0 out of 5 stars
Rated 0 out of 5 stars
Rated 0 out of 5 stars