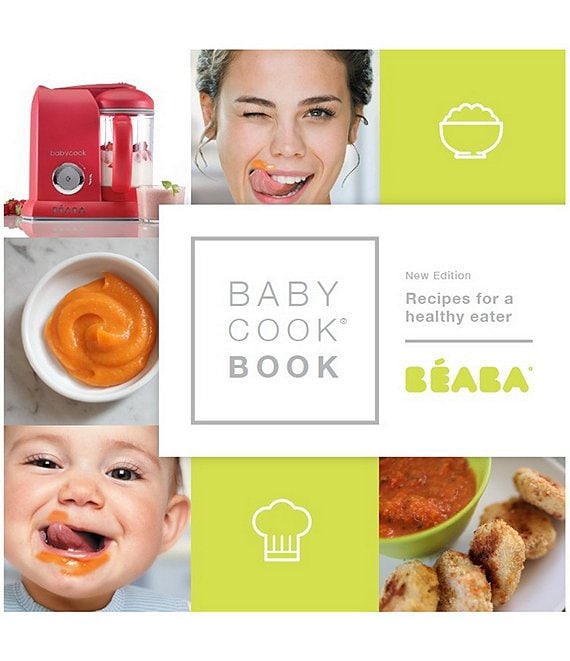 BEABA
Babycook® Cookbook Recipes for a Healthy Eater
*Returns not accepted on any opened, used, or defective product. Contact manufacturer directly for further defective products/parts.
From BEABA, this cookbook features:
Over 80 healthy recipes from baby's first bite to snacks for the whole family
Your baby will be delighted with the delicious dishes presented in Beaba's Babycook® Book: Recipes for a Healthy Eater.
The recipes gradually become more complex as your baby's taste buds continue to develop.
The cookbook features whole, healthy ingredients and interesting "foodie facts" to educate you on the nutritional benefits of each recipe.
We've even included a chapter of recipes that are sophisticated enough for the whole family to enjoy. Bon appetit!
Includes nutritional tips and tricks so you can learn as you cook
designed for use with Beaba's Babycook, a small appliance that steams, blends, defrosts and reheats food
Most meals recipes are super fast – 20 minutes or less
Easy, step-by-step directions
Helpful Feeding Guide gives suggested times to introduce new foods to baby
Imported.
For over 30 years, BEABA has been known around the world for creating simple, innovative, French-designed baby products to help make parents' lives easier. It all began with the Babycook Baby Food Maker, the first ever make your own baby food machine. We have since evolved to carry everything a parent might need for their infant, baby and toddler - from feeding essentials, baths, and cribs to highchairs and more! BEABA's unparalleled quality and sentiment that parenting should be made as easy as possible has parents and celebrities alike remaining loyal.
Ratings & Reviews
No reviews
Rated 0 out of 5 stars
Rated 0 out of 5 stars
Rated 0 out of 5 stars
Rated 0 out of 5 stars
Rated 0 out of 5 stars