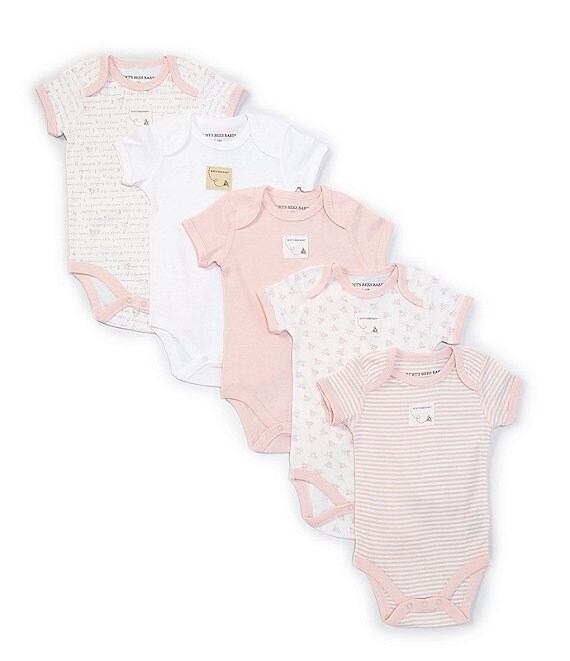 Burt's Bees
Baby 3-12 Months Short-Sleeve Solid/Printed 5-Pack Bodysuits
Rated 4.67 out of 5 stars
Rated 4.67 out of 5 stars
Rated 4.67 out of 5 stars
Rated 4.67 out of 5 stars
Rated 4.67 out of 5 stars
3 Reviews
Rated 4.67 out of 5 stars
From Burt's Bees, this set features
5-pack of bodysuits with an envelope neckline, lapped shoulders, short sleeves, and snap-leg closure
One cloud-printed bodysuit
One color bodysuit
One alphabet bee bodysuit
One honeybee printed bodysuit
One striped bodysuit
Cotton
Machine wash
Imported.
DMS: 0412 295 LY11172-DIL
Burt Shavitz and Roxanne Quimby created Burt's Bees in the early 1980s. In their former lives, Burt worked as a photojournalist in Manhattan, and Roxanne was an artist living in San Francisco. Each left behind the harried pace of city life to seek—and eventually find—freedom in the remote, pristine wilderness of Maine.

Burt and Roxanne valued the simple life, and knew the importance and personal worth of staying connected to nature. Their lifestyle was low-impact, and socially and environmentally conscious. As back-to-basics, D-I-Y types, they were ahead of their time—their approach is as compelling now as ever.

Roxanne used to say that since we take from nature, we must respect and preserve it. Today, we follow in her and Burt's footsteps by using the best materials from nature, and in turn respecting nature so we can all live well.
Ratings & Reviews
4.67
Rated 4.67 out of 5 stars
Rated 4.67 out of 5 stars
Rated 4.67 out of 5 stars
Rated 4.67 out of 5 stars
Rated 4.67 out of 5 stars