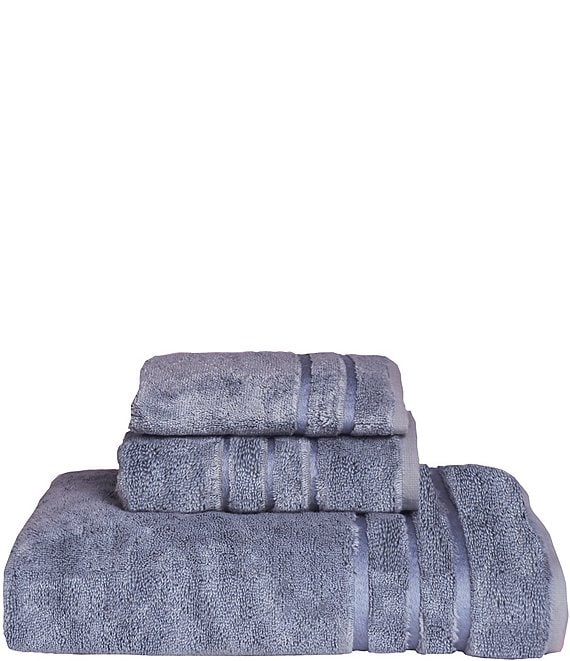 Cariloha
Bamboo Bath Towel 3-Piece Set
From Cariloha, this bath towel set features:
Made of 42% Viscose from Bamboo/58% Turkish-combed Cotton
Plush perfection and luxury softness
Accented with striped border
600 grams per square meter
Highly absorbent
Odor resistant
Optimized for softness
Bath towel approx. 30" x 56"
Hand towel approx. 16" x 30"
Washcloth approx. 13" x 13"
Machine wash cold, tumble dry on low heat
Imported.
Cariloha Is Bamboo

Since 2007, Cariloha has grown to become a globally recognized brand with a retail, wholesale and online presence specializing in bedding, clothing and bath goods made of comfortable, sustainable viscose from bamboo. By turning self-replenishing bamboo fields into luxuriously soft, earth-friendly bamboo-viscose fabrics, Cariloha offers an exclusive collection of bedding, apparel, activewear, bath goods, and more made from this soft, cool, clean, and green fabric.

Inspired by the essence and energy of the islands, Cariloha blends style and self-expression into every piece of clothing and bedding it makes. Special care is taken to drape customers in soft, comfortable, sustainable bamboo-viscose fabrics that leave them experiencing tranquil days in paradise time and time again. Thanks to an ever-growing, rich supply of bamboo, Cariloha has an expansive fleet of retail showrooms in 17 countries offering its proprietary apparel, bedding and bath goods – all enjoying the quality, soft touch, and green 'footprint' of this sustainable, renewable resource.
Ratings & Reviews
No reviews
Rated 0 out of 5 stars
Rated 0 out of 5 stars
Rated 0 out of 5 stars
Rated 0 out of 5 stars
Rated 0 out of 5 stars