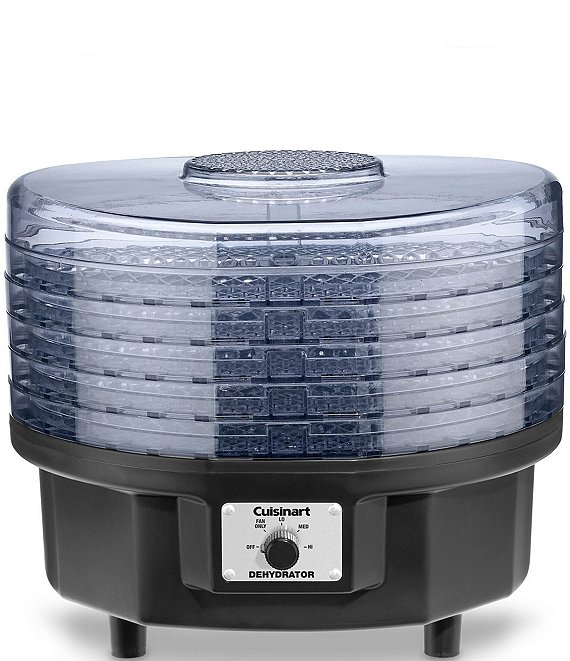 From Cuisinart, this food dehydrator features:
dries your favorite meats and fruits for healthier snacks or dry herbs and flowers for a fragrant potpourri
5 stackable interlocking racks (fits up to 9 racks; extra racks sold separately)
adjustable thermostat: Fan Only, Lo, Medium, High
top venting system
620 watts of power
approx. 12(L) x 14(W) x 10.25(H)"; 8.7-lb. weight
plastic
fruit roll-up sheet included
limited 5-year motor warranty
Imported.
Julia Child let people in on the Cuisinart secret and so did James Beard. They were among the first culinary experts to hail the food processor as a revolutionary kitchen appliance when it was introduced to America in 1973 by the late Cuisinart founder, Carl Sontheimer. They saw the food processor as a quick and easy way to make fine food and healthy dishes.

Our Mission is to help you "Savor the Good Life®." Under management from Conair Corporation since 1989, the legacy is alive and well, as today, Cuisinart is a universally recognized name. The prestigious Cuisinart brand is not limited to food processors. Plugged or unplugged, nobody covers the kitchen like Cuisinart. The company is a full-service culinary resource with a wide array of products, preferred by chefs and favored by consumers.
Ratings & Reviews
No reviews
Rated 0 out of 5 stars
Rated 0 out of 5 stars
Rated 0 out of 5 stars
Rated 0 out of 5 stars
Rated 0 out of 5 stars