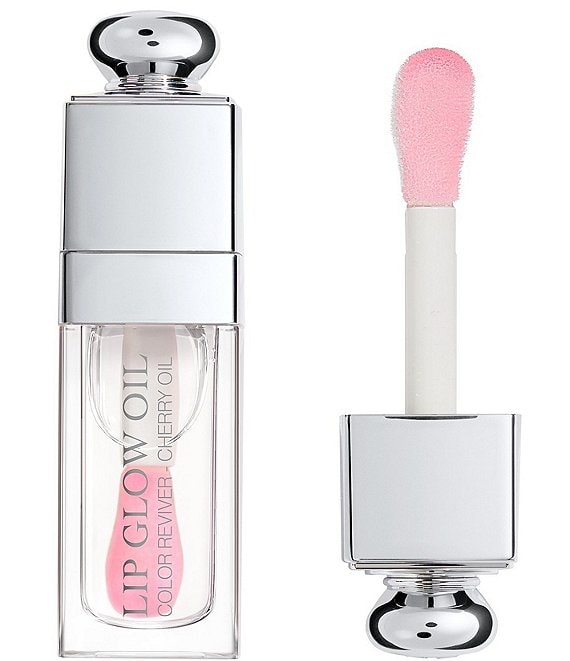 Dior
Lip Glow Oil
Rated 4.73 out of 5 stars
Rated 4.73 out of 5 stars
Rated 4.73 out of 5 stars
Rated 4.73 out of 5 stars
Rated 4.73 out of 5 stars
15 Reviews
Rated 4.73 out of 5 stars
What It Is:
A nourishing, glossy lip oil that protects and enhances the lips, bringing out their natural color.

What Else You Should Know:
Its non-sticky, non-greasy, rich and balmy oil texture combines the mirror shine of a lip gloss with the comfort of intense lip care. It's enriched with cherry oil creating a pampering formula for protection against stress factors and drying. It nourishes the lips with an immediate and lasting effect.

With its Color Reviver technology, Lip Glow Oil reacts directly to the moisture level in each person's lips for custom color while ensuring continual moisturization. The lips are more beautiful, even when bare, after 5 days of application.

How to Use:
Wear as a primer, alone or as a top coat for dazzling shine.
Founded by Christian Dior, the Dior fashion house was established in December 1946, and the freshman launched his first collection in 1947 at their Parisian headquarters. Both Christian Dior and his luxury brand quickly rose to the forefront of the high-fashion world, becoming one of the most influential fashion houses of the century. The luxury fashion house continues to create products evoking timeless luxury and quality innovation. Dior's first perfume, Miss Dior, evolved into an entire skincare line, fragrance, and cosmetics that express a timeless devotion to sensual femininity. Christian Dior's legacy lives on through his Dior brand and remains one of the most prominent and significant fashion houses of our time.
Ratings & Reviews
4.73
Rated 4.73 out of 5 stars
Rated 4.73 out of 5 stars
Rated 4.73 out of 5 stars
Rated 4.73 out of 5 stars
Rated 4.73 out of 5 stars