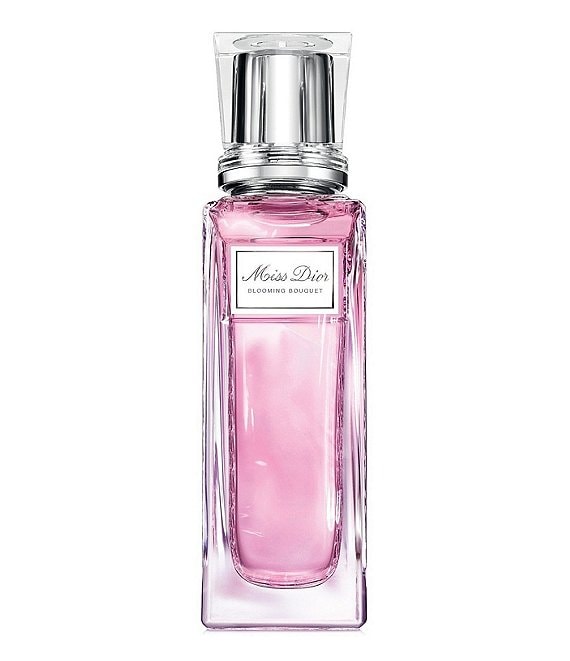 Dior
Miss Dior Blooming Bouquet Roller-Pearl
Rated 4.63 out of 5 stars
Rated 4.63 out of 5 stars
Rated 4.63 out of 5 stars
Rated 4.63 out of 5 stars
Rated 4.63 out of 5 stars
8 Reviews
Rated 4.63 out of 5 stars
Be surrounded in Miss Dior Blooming Bouquet in the Roller-Pearl. A discreetly elegant glass bottle, topped with a delicate pearl for a free and easy approach to fragrance application. For fragrance touch-ups or perfuming on the go, Miss Dior Blooming Bouquet Roller-Pearl is as precious as a gem.
PRECISE, CONTROLLED APPLICATION: The glass bead tip delivers just the right amount of fragrance, right where desired, with no waste.
VELVET TOUCH: The texture is luxuriously sensual, ultra-light, and fresh.
TRAVEL: The 20 ml bottle goes anywhere. It is hermetically sealed with a screw-on cap.
Miss Dior Blooming Bouquet is a fresh and sparkling composition fashioned like a dress embroidered with a thousand flowers. This floral bouquet pays homage to Christian Dior's legendary passion for flowers. At its heart lies the tenderness of a peony and Damascus rose accord, honed by a radiant Calabrian bergamot. Its poetic trail is adorned with a lacework of white musks. A springtime floral signature for a playful and charming Miss Dior.
Founded by Christian Dior, the Dior fashion house was established in December 1946, and the freshman launched his first collection in 1947 at their Parisian headquarters. Both Christian Dior and his luxury brand quickly rose to the forefront of the high-fashion world, becoming one of the most influential fashion houses of the century. The luxury fashion house continues to create products evoking timeless luxury and quality innovation. Dior's first perfume, Miss Dior, evolved into an entire skincare line, fragrance, and cosmetics that express a timeless devotion to sensual femininity. Christian Dior's legacy lives on through his Dior brand and remains one of the most prominent and significant fashion houses of our time.
Ratings & Reviews
4.63
Rated 4.63 out of 5 stars
Rated 4.63 out of 5 stars
Rated 4.63 out of 5 stars
Rated 4.63 out of 5 stars
Rated 4.63 out of 5 stars