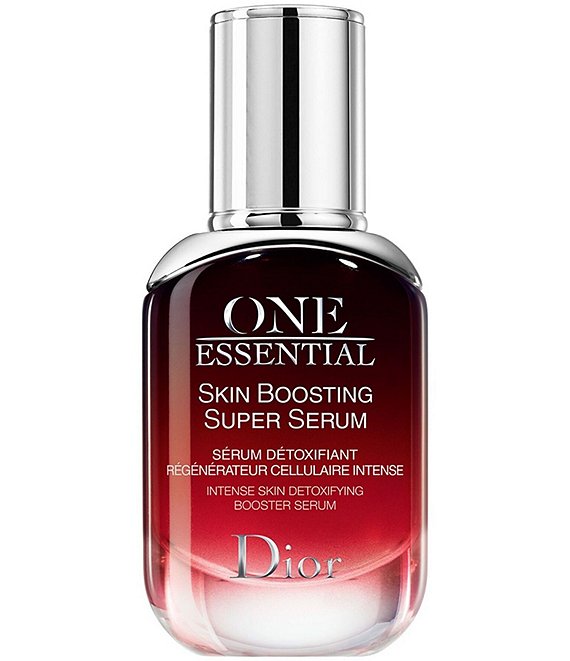 Dior
One Essential Skin Boosting Super Serum
Rated 4.96 out of 5 stars
Rated 4.96 out of 5 stars
Rated 4.96 out of 5 stars
Rated 4.96 out of 5 stars
Rated 4.96 out of 5 stars
24 Reviews
Rated 4.96 out of 5 stars
This daily detox booster is more than just a serum. One Essential Skin Boosting Super Serum detoxifies, regenerates, and boosts skin for a revitalized complexion.

What it Is: The new One Essential Skin Boosting Super Serum with a more powerful formula that targets 100% of both outdoor and — for the first time — indoor toxins such as carpet, glue, varnishes, and electronic devices. One Essential Skin Boosting Super Serum quadruples the effects of active ingredients in the skincare products that follow (retinol, vitamin C, longoza, hyaluronic acid, and bifidus) for lasting radiance. The Dior Research Center studied the Red Hibiscus flower and discovered extraordinary detoxifying power. Red Hibiscus extract has been shown to stimulate the recycling process of toxins that have penetrated the cell's "lung."

How to Use: Apply on cleansed skin, morning and night, before your usual skincare routine. This super serum is the fundamental first step, before any other skincare product, for a revitalizing effect. When applied twice per day, One Essential Skin Boosting Super Serum purifies and strengthens the skin, and the effectiveness of your usual skincare routine is boosted and prolonged by up to 4 times.
Founded by Christian Dior, the Dior fashion house was established in December 1946, and the freshman launched his first collection in 1947 at their Parisian headquarters. Both Christian Dior and his luxury brand quickly rose to the forefront of the high-fashion world, becoming one of the most influential fashion houses of the century. The luxury fashion house continues to create products evoking timeless luxury and quality innovation. Dior's first perfume, Miss Dior, evolved into an entire skincare line, fragrance, and cosmetics that express a timeless devotion to sensual femininity. Christian Dior's legacy lives on through his Dior brand and remains one of the most prominent and significant fashion houses of our time.
Ratings & Reviews
4.96
Rated 4.96 out of 5 stars
Rated 4.96 out of 5 stars
Rated 4.96 out of 5 stars
Rated 4.96 out of 5 stars
Rated 4.96 out of 5 stars