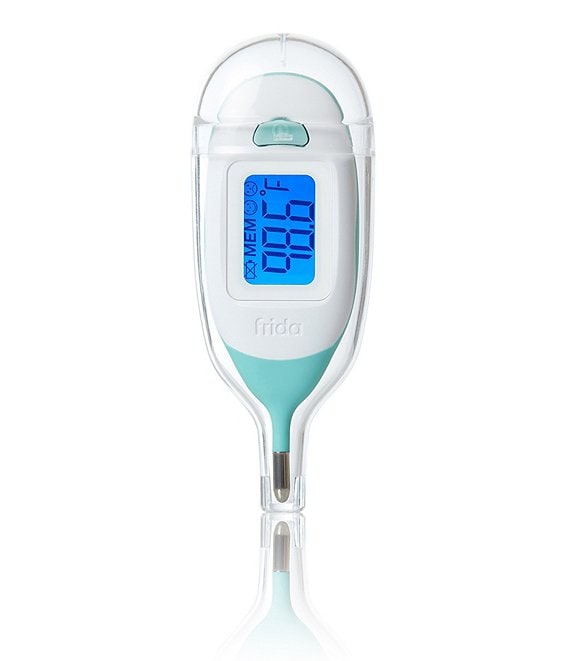 Fridababy
Quick-Read Digital Rectal Thermometer
Rated 4.81 out of 5 stars
Rated 4.81 out of 5 stars
Rated 4.81 out of 5 stars
Rated 4.81 out of 5 stars
Rated 4.81 out of 5 stars
63 Reviews
Rated 4.81 out of 5 stars
From Fridababy, this rectal thermometer features:
1 Rectal Thermometer + 1 Carry Case
FEVER OR FINE IN A FLASH: Delivers a 10-second quick read
KEEP YOUR COOL: Parent-proof rectal insertion stopper to keep you from inserting too far, and a large display with backlight makes nighttime temp checks easier. Safe flexible tip and stopper make it parent-proof
TUSH TEMP: AAP recommends that for at least the first year of baby's life (though up to three is best), temp checks should only be done rectally. Plus, the parent-proof stopper with an LED light makes tush temp checks worry-free.
BABY FEVER: BPA-Free and latex-free. Plus, water-resistant for easy cleaning.
MEMORY MODE: Memory stores up to 10 previous readings
For 0+ Months
Imported.

*Returns not accepted on any opened, used, or defective product. Contact manufacturer customer service directly for defective products/parts.
Frida is the brand that gets parents. That means you. We are not a lifestyle. Far from it. We are a solution-based brand. The 411 of parenting. The who-do-I-call-in-the-middle-of-the-night-cause-my-baby-won't-stop-screaming brand.
Ratings & Reviews
4.81
Rated 4.81 out of 5 stars
Rated 4.81 out of 5 stars
Rated 4.81 out of 5 stars
Rated 4.81 out of 5 stars
Rated 4.81 out of 5 stars